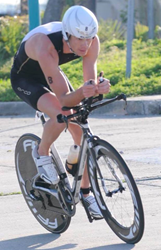 'When asked to be Grand Marshal of the Challenge Ride leading hundreds of cyclists, I was thrilled. Although I race professionally, this bike ride gives me the chance to use my talents to directly help the kids attend Camp Boggy Creek.' - Michael Poole
Eustis, FL (PRWEB) August 12, 2014
Camp Boggy Creek is proud to announce international triathlete Michael Poole as the Grand Marshal of the 4th Annual Challenge Ride. This event, presented by Wyndham Vacation Ownership and Wishes by Wyndham, will be held on September 6, 2014.
All funds raised from this event will benefit Camp Boggy Creek, serving children with serious illnesses and their families by making it possible for them to experience the adventure of camp in an environment capable of meeting their medical needs, at no cost to the families.
Michael Poole knows what it is like to live with a serious illness, after being diagnosed with epilepsy in 2009. His first seizure held him back from Junior World Championships and threatened his career. However Poole has worked hard to overcome this disease. Despite a recent injury, he is currently ranked third for the Lifetime Tri-Series, the premier pro-triathlon racing circuit in the US. Poole also serves as a national spokesman for the Epilepsy Foundation Athletes vs. Epilepsy program.
"It's an honor to be a part of an organization that understands and supports children with serious illnesses," said Poole. "When asked to be Grand Marshal of the Challenge Ride leading hundreds of cyclists, I was thrilled. Although I race professionally, this bike ride gives me the chance to use my talents to directly help the kids attend Camp Boggy Creek."
For more information on the 4th Annual Challenge Ride or to register for the event, visit campboggycreek.org/challengeride. Follow Poole by visiting http://michaelpoole.co.nz/, Facebook or Twitter.
-----
About Camp Boggy Creek
Founded in 1996, Camp Boggy Creek is a year-round medical camp for children with serious illnesses. Co-founded by actor/philanthropist Paul Newman and General H. Norman Schwarzkopf, the camp offers week-long summer sessions and family retreat weekends at no charge to the children or families. Located in Eustis, Florida, the 232-acre nonprofit serves children ages 7–16 that have been diagnosed with chronic or life-threatening conditions. The camp is entirely funded by generous donations from individuals, corporations, foundations and healthcare partners. Camp Boggy Creek is a proud member of SeriousFun Children's Network. Learn more by visiting campboggycreek.org.