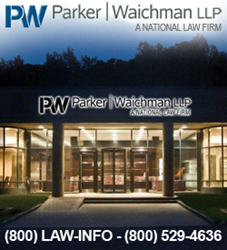 Port Washignton, New York (PRWEB) August 15, 2014
Parker Waichman LLP, a personal injury law firm that has spent many years fighting to ensure that the heroes of 9/11 are never forgotten, comments that more than 2,500 Ground Zero workers have been diagnosed with cancer and that the number of responders who have been diagnosed has more than doubled in the past year, according to a July 27, 2014 report by WPIX. Some of those impacted by the toxic dust cloud that hovered over the terrorist attack site say they are worried that they may not receive coverage until after their deaths and others worry that, as more is learned about the illnesses being seen as a result of the attacks, the numbers of people diagnosed with cancer will continue to rise.
The World Trade Center Health Program indicates that a total of 1,655 responders have been diagnosed with some type of cancer following their work at the WTC site, bringing the total of those responders reporting diagnoses to 2,518. Responders include individuals who were police officers, firefighters, emergency medical technicians (EMTs), construction workers, sanitation workers, and volunteers who responded to the World Trade Center terrorist attack site, according to a The New York Post report dated July 27, 2014. To date 1,145 claims have been received that involve cancer as a diagnoses; however, just 115 claims have been awarded against these claims.
The September 11th Victims Compensation Fund (VCF) recently announced an important deadline in a VCF message dated July 3, 2014. Individuals diagnosed with a covered cancer on or before October 12, 2012 must file a Registration Form by October 12, 2014. First responders and others allegedly injured by the toxic dust cloud that hovered over the Manhattan World Trade Center site and who were diagnosed with cancer after October 12, 2012 must file a Registration Form within two years of the date of diagnosis, according to the VCF announcement.
The Zadroga Act, which became law in December 2010, was named for deceased New York Police Department detective James Zadroga, who worked at Ground Zero. Many individuals who participated in the rescue and recovery efforts following the 9/11 terrorist attacks have since been diagnosed with various illnesses because of their exposure to toxic dust, according to a September 3, 2011 report by The Lancet. The Zadroga Act reopened the 9/11 Victims Compensation Fund for five years to provide payment for job and economic losses for first responders, those trapped in the buildings, and local residents, who suffered illness or injuries related to the toxic dust.
Parker Waichman LLP, which worked alongside Ground Zero first responders and their advocates to ensure passage of the Zadroga Act, vows to continue its efforts to ensure these heroes receive all of the Zadroga Act compensation they need and deserve.
If you or a loved one are eligible for compensation under the Zadroga Act, and would like assistance with your claim, please visit Parker Waichman's Zadroga Act claims page at yourlawyer.com or call 1-800-LAW-INFO (1-800-529-4636).