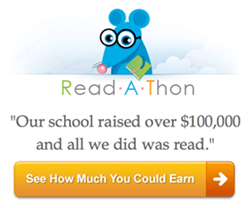 'Schools are finding out that people are more than happy to donate money to a worthy cause.'
Mansfield, Texas (PRWEB) August 13, 2014
To David Langston, Principal of Crestview Elementary, school fundraising was more of a nuisance than a productive endeavor. He, like many other principals and PTA's, was growing frustrated with diminishing profits and lack of interest in the fundraisers the school had been choosing.
This past year Langston went out on a limb and tried holding an online read-a-thon with the Read-a-thon Fundraising Company. It was a huge success.
"Our read-a-thon was very simple and required very little on the part of the staff," says Langston. "We were very satisfied with the results of this fundraiser based upon the demographics of our school."
Instead of selling products the students at Crestview were asked to complete 10 reading sessions. Unlike other fundraisers, the entire student body participated in the event.
Each student was asked to build a personal read-a-thon web page which acted as an event dashboard. The dashboard helps readers identify potential sponsors and provides email tools, social media widgets and other print tools to reach out to those potential sponsors and request online donations.
Unlike product fundraisers there are no geographical restrictions when it comes to contacting sponsors.
"Last year our schools received donations from more than 10 different countries," says Howard Gottlieb, President of the Read-a-thon Fundraising Company. "We even had a school in Guam hold a read-a-thon and they received donations from all over the United States, Guam and Australia."
With a Read-a-thon, friends and family are asked to motivate and support a student to read more by making a donation instead of purchasing cookie dough or gift wrap.
"Schools are finding out that people are more than happy to donate money to a worthy cause," said Gottlieb. "Imagine getting an email from your grandchild telling you they're excited about participating in a reading campaign at school and asking if you would make a donation to support them. Most grandparents, relatives and family friends are happy to do that."
Yolanda Nichols with Thunderbird Christian was shocked with her school's results.
"I didn't realize how easy it was to raise money with a read-a-thon," said Nichols. "This was so easy. Our school has never raised this amount in such a short period of time. And we only had around 50% participation. Only thinking how much more we could raise raised if we had 100%."
Read-a-thons last for two weeks. The readers complete 10 reading sessions during the event. Sponsors are asked to make one-time donations online. The online donation system means that no money has to be handled by the students.
One school echoed what other schools also reported.
"The fundraiser was the easiest one we have done yet and it brought in the most money. It was a win-win," said Jen Wright with Andersen Elementary.
"The kids who participated did a really awesome job and enjoyed this fundraiser. We love that the kids were excited to log their reading time and earn prizes for doing it."
For more information contact the Read-a-thon Fundraising Company.