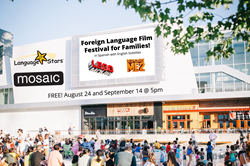 Fairfax, VA (PRWEB) August 18, 2014
WHO: Language Stars, the national leader in early childhood foreign language education with locations throughout the Chicago and Washington DC metropolitan areas, will host the first annual Language Stars Family Foreign Language Film Festival this summer at the Mosaic District in Fairfax, Virginia to expose children and their families to movies in other languages.
WHAT: The debut film, The LEGO® Movie, will be played in Spanish with English subtitles. Based on the LEGO line of construction toys, the film tells the story of an ordinary LEGO construction worker who is prophesised to save the LEGO universe from an evil tyrant bent on gluing it into eternal stasis.
WHY: Studies have shown that knowing a foreign language carries lifelong benefits for children in all areas, from their socialization to their use of critical thinking skills. Investing in early learning strengthens transferable social and learning skills. Between birth and adolescence, the brain is hard-wired to acquire language naturally. As a child approaches puberty, the nature of language learning and storage changes, becoming less flexible. Overall, the ease of learning a second language diminishes with age. "Taking advantage of this window of opportunity by exposing children to films they love in a second language, allows a child to optimize his or her learning potential, helping to shape the brain at its most flexible stage," says Jamie Davidson, CEO of Language Stars.
WHEN: Sunday, August 24. Movie begins at 5pm.
WHERE: The open air movie screen at Mosaic District.
2910 District Avenue
Fairfax, VA 22031
at Lee Highway & Gallows Road
WHO SHOULD ATTEND: The general public. This is a FREE event for families.
About Language Stars
Language Stars, the national leader in early childhood foreign language education, teaches foreign language classes for kids between the ages of 1 and 10 years old focusing on the window of opportunity between birth and 10 years of age when a child's brain is hardwired to learn any language naturally and easily. Their mission is to change how and when children learn a foreign language to foster a new generation of multi-lingual Americans. Language Stars has 18 locations in the Chicago and Washington D.C. metro areas and is in over 150 public, private and parochial schools, including preschools, elementary schools and middle schools. Language Stars currently reaches over 10,000 toddlers, preschoolers, and elementary students each week, helping them move toward proficiency in a foreign language, build cognitive skills and become sensitive to new cultures. For more information, visit http://www.languagestars.com.
For information on the Foreign Language Film festival, http://www.languagestars.com/filmfestdc
###