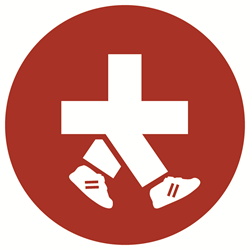 Austin, Texas (PRWEB) August 14, 2014
Over the last few years, footwear manufacturers have attempted to mimic barefoot running with lines of minimalistic running shoes. But what exactly is minimal footwear? According to Harvard University, it is "any footwear that lacks high-cushioned heels, stiff soles and arch support." Given these parameters of minimal hazard protection, traction and overall support, many may wonder why some runners are so keen on adopting this relatively new brand of running shoe. Here are a few of the benefits to minimalist running:

Helps strengthen feet
Improves running economy
Decreases run time
Improves running form
Reduction of heel strike, which leads to less pressure on the body
Since most modern-day athletes have trained in over-protected and over-supported shoes, it's easy for them to get injured when starting a minimalist running routine if they don't prepare for the transition. With that in mind, here are a few suggestions to help reduce injuries and strengthen feet for barefoot or minimalist runs:

Transition slowly. Don't move directly to the minimalist shoe. Step down from the typical over-protected running shoe to a barefoot-mimicking shoe before making the switch to the actual barefoot shoe.
Walk before running. Think of the traditional running shoe as a cast, in which the bones and muscles are largely held in place, leading them to be underdeveloped. Build up strength and tolerance by going for barefoot walks, first on concrete, and then on grass, sand, soil and rockier terrain.
Play ball. Use a tennis ball to massage any trigger points out of the bottom of the foot. Just place the ball on a smooth, hard surface, then step on it and roll it around on the corner of the arches and the heels.
Don't forget the calves. Take the same tennis ball, but now lay down on top of it with the calf muscle. Use the body to roll along the outside portion of both calves.
Towel off. Take any hand towel and place it flat on the floor or ground. Attempt to scrunch it up with the feet, then grab it with and lift it off the ground with the toes.
"Minimalist running can help in the development of lower arches and stable feet," said Dr. Martha Pyron, Austin sports medicine doctor and owner of Medicine in Motion. "It can aid in increased flexibility and elasticity in the soles of the feet. In the long run, runners may find these changes significantly aid in successful runs. Like with any sport or athletic effort, however, it's best to start out slow and train the body properly in order to go the distance."
Medicine in Motion (MIM) specializes in providing top quality sports medicine in Austin, Texas, for athletic individuals of all ages and levels. The staff at MIM believes active bodies are healthy bodies, therefore it is the office's goal to keep patients energetic and fit. To that end, MIM provides treatment of injuries and illnesses, including the use of physical rehabilitation; promotes healthy living with personal training and nutrition coaching; and offers comprehensive sports medicine evaluations to optimize health, activity level and sports performance. For more information or for questions regarding sports medicine in Austin, contact Medicine in Motion at 512-257-2500 or visit the website at http://www.medinmotion.com.