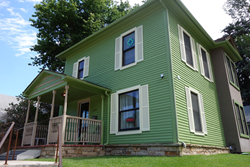 "Bringing high quality recreational products to the masses has been a dream of ours for a long time." - Dan Sullivan, owner of The Green Joint
(PRWEB) August 12, 2014
The Green Joint, a recreational marijuana dispensary, opened its doors to the pot-loving masses on Friday, August 1st. Owned by locals Cheryl and Dan Sullivan, The Green Joint is the third recreational marijuana shop to open in Glenwood Springs, Colorado since recreational weed became legal January 1, 2014. The Sullivans have served the greater Roaring Fork Valley for the last five years with Green Medicine Wellness, a medical marijuana dispensary, and now the Green Joint and Green Medicine Wellness operate out of the same appropriately-green Victorian in the heart of Glenwood Springs, CO.
"Bringing high quality recreational products to the masses has been a dream of ours for a long time," said Dan Sullivan, owner of The Green Joint. "We've seen visitors from France, the UK, and all over the U.S. in the short time that we've been open. It's been incredible to see the excitement on the face of every customer that has walked through our door."
Located at 1030 Grand Avenue in Glenwood Springs, The Green Joint offers a central location and a discreet, comfortable atmosphere. Recreational patrons are greeted upon entry and can browse the marijuana selection upstairs in a relaxed setting (medical customers stay on the main level). Guests can make themselves at home on couches if there is a wait, and everyone from weed veterans to weed novices are encouraged to ask questions and learn about favorite strains and different offerings at The Green Joint. The Sullivans and their team of knowledgeable bud tenders and growers focus on offering high-grade, quality marijuana, as well as an assortment of edibles (gummies, chocolates, beverages), concentrates, balms, lotions, and tinctures, as well as smoking accessories.
Along with a prime recreational marijuana retail location in Glenwood Springs, customers can also check out The Green Joint's tightly rolled and responsive website, which functions on mobile phones, tablets, and desktop computers. The custom-built "High Finder" assists website visitors in finding the right marijuana products based on the desired strain, energy level, and even extra-curricular activity. Check out The Green Joint's current strains before visiting the retail location, for a hassle free and quick stop.
The Green Joint, with the tagline "You gotta to hit it," is proud to be serving the greater Roaring Fork Valley locals as well as Colorado visitors over the age of 21. Patrons are advised to read the Colorado marijuana laws as they differ for Colorado residents and non-Colorado residents. The Green Joint is conveniently open seven days a week from 10am to 7pm. Customers are also encouraged to 'like' The Green Joint on Facebook to take advantage of specials offered to Facebook fans only. https://www.facebook.com/thegreenjoint