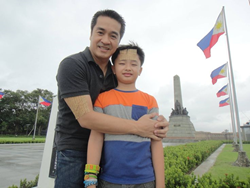 "It was our biggest PowerStrip sampling weekend in the company's history," said Joe Jensen, VP of Sales.
Pleasant Grove, Utah (PRWEB) August 13, 2014
ForeverGreen Worldwide Corporation (OTCBB:FVRG), a leading provider of nutritional foods and other healthy products, announced today its Million PowerStrip Weekend awareness campaign reached people in the United States, Europe, South America, Asia and Europe.
ForeverGreen Worldwide Corporation's VP of Sales Joe Jensen said, "The response to this outreach idea has been really gratifying for everyone who worked to make it happen. The idea was to set a goal to help a million new people around the world experience pain relief with PowerStrips, and our global FGXpress member community really delivered. We're still receiving photos from iconic locations all over the world in landmark cities like Manila, San Francisco, Moscow, Paris and even the Indianapolis Motor Speedway. It was our biggest PowerStrip sampling weekend in the company's history. More PowerStrips were used during this past weekend than any other weekend, and we experienced a 22% increase in sales when compared to the first four days in July. We look forward to a great sales month in August because of the way we have started."
ForeverGreen Worldwide Corporation plans another FGXpress Million PowerStrips Weekend starting September 5, 2014. ForeverGreen's exclusive PowerStrip product is listed with the FDA as a Class 1 Medical Device for the temporary relief of minor pain. Using all natural ingredients, PowerStrips can be mailed anywhere in the world and are marketed in 174 countries by a growing network of independent business owners.
ForeverGreen Worldwide Corporation develops, manufactures and distributes an expansive line of all natural whole foods and products to North America, Australia, Europe, Asia and South America, including their new global offerings, PowerStrips and SolarStrips. They also offer Azul and FrequenSea(TM) whole-food beverages with industry exclusive Marine Phytoplankton, the Versativa line of hemp-based whole-food products, immune support and weight management products, Pulse-8 powdered L-arginine formula, TRUessence(TM) Essential Oils and Apothecary, 24Karat Chocolate(R) and an entire catalog of meals, snacks, household cleaners and personal care products.
Forward-Looking Statement
This press release contains certain forward-looking statements. Investors are cautioned that certain statements in this release are "forward-looking statements" and involve both known and unknown risks, uncertainties and other factors. Such uncertainties include among others, certain risks associated with the operation of the company described above. The company's actual results could differ materially from expected results.