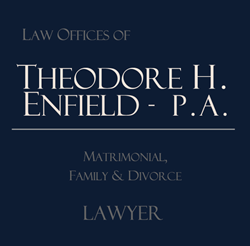 Divorce is difficult enough without going into it unprepared.
MIAMI, FL (PRWEB) August 13, 2014
Divorce is a costly, emotionally traumatic and often bitter struggle. If there is no way the marriage can be saved (which is what most counselors recommend to attempt first). Legal counsel is always recommended when deciding what to do if a marriage might be beyond saving, since divorce law is different in every state.
Theodore Enfield, a Florida Divorce attorney with over 30 years of experience, announces new preparatory, simple steps for filing for divorce in the state of Florida:

Assisting the client in forming their Petition for Dissolution of Marriage.
Each party must fill out a Notice of Social Security Number form, the Financial Affidavit Form, a Divorce Settlement Agreement Form (if applicable), and a Child Custody Affidavit (if children are involved).
Finally, residency is proven, the forms are submitted to the divorce court, and filing fees are paid, which happens all at once.
Laws governing divorce are different in every state, which can get confusing. For Floridians, filing is simple with these preparatory steps.
Divorce in Florida is called "dissolution of marriage." Because Florida is also a no-fault state, a Florida divorce case is not dependent on proving that one or both partners did something to violate the marriage, such as adultery.
There are two types of divorce in Florida: simplified and regular. If certain conditions are met, then the couple qualifies for a simplified dissolution of marriage, which is faster and easier. This process involves filling out an application for divorce then appearing in front of a judge who can grant the divorce. This is available to couples who: At least one of which has lived in Florida for six months preceding the dissolution of marriage, both agree that their marriage is irrevocably broken, there are no minor or "dependent" children in the marriage, the female is not pregnant at the time of divorce, neither party is seeking alimony from the other, both spouses have financial affidavits (or agree they have no need for them), both spouses have agreed on the division of their assets and debts, and finally, both agree to enter the simplified dissolution that forgoes the right to a trial or an appeal.
While divorce in Florida is easiest when done in simplified form, it is, unfortunately, rare that couples agree completely enough to make it possible. This makes legal counsel necessary in any case. Florida divorce attorney Theodore Enfield is a common and reliable choice of counsel for getting a divorce in Florida.
About Theodore Enfield, Miami Divorce attorney: With more than 30 years of experience in Florida divorce & having helped several Florida families deal with family law issues such as divorce and domestic violence, prenuptial agreements, equitable property settlement, child custody & support, Theodore Enfield is one of the most reputable Family law attorneys in Florida, who can provide guidance through all of the issues that are likely to arise during divorce.
For a free consultation please call 305.933.9592, 1.800.733.5299 or visit http://www.theodoreenfield.com/
Theodore Enfield's office is located at:
19235 Biscayne Boulevard, Suite 105 Miami Florida 33180