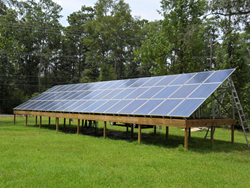 Low income families benefit the most
New Orleans, Louisiana (PRWEB) August 14, 2014
NationWize Solar, a leading solar energy development company with offices in Louisiana and California, has completed the installation of 70 solar energy systems on low and Medium income homes in Louisiana. This project completes a series of projects where NationWize Solar has completed nearly 200 homes in the Louisiana area in low to moderate income neighborhoods. This underscores NationWize's committed to help residence that can benefit from reductions of energy bills the most.
NationWize Solar provides for the development and financing of solar energy systems in both Louisiana and California. NationWize uses its own capital which provides homeowners easy qualifying, $0 down and low payment plans.
This Milestone marks the beginning of a larger project for NationWize solar to install solar energy systems on more than 1,000 homes by the second quarter of 2015 in both California and Louisiana. NationWize Solar's CEO, Marvin Wilcher, says that this is an important milestone considering that we have financed these projects using our own capital. There has been no bank financing to complete these projects and it shows that entrepreneurs can creatively aggregate resources to finance their businesses.
NationWize Solar has been involved in residential solar in both Louisiana and California since 2008 and has been self-financing solar since late 2009 when it became the first solar company to lease solar energy systems in Louisiana. Marvin Wilcher expects 2014 fiscal year to be a record year for NationWize Solar. "We expect to launch our 1,000 solar homes project by September 2014 with the goal of finishing installation before the end of the first quarter of 2015.
About NationWize Solar:
Founded in 2008, NationWize Solar is an developer of solar energy systems in both California and Louisiana and specifically focuses on low cost leasing programs for low income residence in both states. The company mission is to bring energy savings to those residence who can benefit from the savings the most. NationWize Solar employs installers throughout Louisiana and Northern California. For more information about NationWize Solar, visit its website at http://www.natwize.com.
For more information please contact:
Nika Chilton
NationWize Solar
110 East D Street
Benicia Ca 94510
Phone: 866-773-5132
Fax: 707 748 1123
Email: info(at)natwize(dot)com