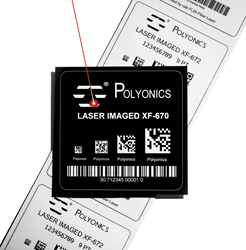 The Primera LP 130 Laser Marking System combined with Polyonics LML materials provides a low cost, production-ready system to produce highly durable labels for harsh environment applications.
Westmoreland, NH (PRWEB) August 22, 2014
Polyonics and Primera have created a unique partnership to offer customers low cost, highly durable laser markable labels. The new Primera LP130 Laser Marking System provides a compact, production-ready desktop system that's simple to operate and easily ablates the Polyonics recently released XF-537 and XF-670 black laser marked polyimide label materials. The combination provides customers the lowest entry point for generating labels specifically designed for long term exposure to high temperatures, strong chemicals and harsh environments.
Polyonics new family of laser markable label materials represents the next generation label technology for the rigors of harsh automotive, aerospace, IUID, PCB and UDI applications. The LML materials are available in both the UL approved XF-537 for PCB applications as well as the GMW14573/GM6121M tested XF-670 for low surface energy applications. Both designs include high temperature polyimide films, durable cross linked polymer coatings, acrylic pressure sensitive adhesives (PSA) and liners for ease of handling and die cutting. The LML materials can also be easily ablated and cut by most low power CO2, YAG, fiber, UV and Vanadate lasers.
The Primera LP130 system is designed to be used on desktops and workbenches, making it as convenient and easy to operate as traditional ink-based label printers. The Primera LP130 contains a high power fiber-coupled laser module, developed in concert with Coherent that easily ablates the Polyonics polyimide LML materials and delivers all the advantages of highly-durable laser marked labels at a significantly lower cost compared to other laser systems.
The LP130 requires no special operator training and comes equipped with a special Primera version of the Windows-based BarTender software for label design. The LP130 also can be ordered with an optional air filtration system.
For additional information
Polyonics LML materials, contact Dave(dot)Genest(at)polyonics(dot)com or 603.903.6327
Primera LP130 laser marking systems, contact sales(at)primeralabel(dot)com, 800-797-2772 (USA and Canada) or (763) 475-6676
Polyonics Corporate Overview
Polyonics manufactures high performance polymeric materials for harsh environments. These include printable and laser markable label materials, single and double coated engineered tapes and flexible substrates with highly reflective and printable top coats. Polyonics materials are used by OEMS and specialty die-cut converters worldwide in electronics, automobile, aerospace, military and medical applications.
About Primera Technology
Headquartered in Plymouth, Minnesota, USA, Primera Technology, Inc. is one of the world's leading specialty printer manufacturers. Its products are sold worldwide through Primera Authorized Resellers and Distributors in more than 183 countries.
More at http://www.primeralabel.com