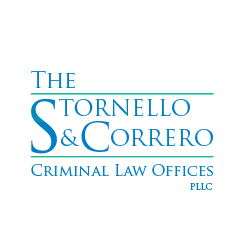 Houston, TX (PRWEB) August 12, 2014
Choosing the right criminal defense attorney can be a difficult and stressful task. When someone needs a lawyer to defend them, they are probably facing one of the most difficult times of their life. That is why lists such as the "10 Best" attorneys by state and the Houstonia Top Lawyers are extremely helpful. These honors make it easier for clients to find attorneys who are proven to be excellent and experienced.
2014 "10 BEST" ATTORNEYS IN TEXAS – AMERICAN INSTITUTE OF CRIMINAL LAW ATTORNEYS™
Houston criminal defense attorney Rosario Stornello from the Stornello & Correro Law Firm, PLLC has been included in the AIOCLA's 2014 list of the "10 Best" attorneys in Texas.
This list only includes attorneys who are nominated by the Texas Board, a client, or another attorney; have perfect 10.0 scores on Avvo; have no negative feedback; and excel in client satisfaction. Attorney Stornello met these strict criteria and is considered one of the 10 best criminal attorneys in the state.
2013 HOUSTONIA TOP LAWYERS
Attorney Stornello was also included in the 2013 Houstonia Top Lawyers list. This list also utilizes Avvo ratings and selects attorneys for inclusion based on their experience, education, awards, publications, and peer endorsements.
Less than 500 local attorneys made the 2013 list and Attorney Stornello was one of them. His inclusion in these two lists establishes the Stornello & Correro Law Firm, PLLC's dedication to legal excellence and outstanding service.
HOUSTON CRIMINAL DEFENSE LAWYER
The Stornello & Correro Law Firm, PLLC is dedicated to defending the rights of clients in and around Houston. No case is too big or too small for the firm to handle, especially with a seasoned and proven criminal lawyer like Rosario Stornello on the team. Anyone in need of solid criminal defense can contact the firm by calling (281) 369-4506 or by visiting their website at http://www.stornellocorrerolaw.com.