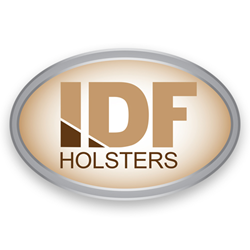 Farmingdale, NY (PRWEB) August 14, 2014
IDFholsters.com, the holster superstore launched in May, continues to expand beyond its selection of over 3,000 holster models. The site now offers new Front Line holsters designed to fit handguns equipped with Crimson Trace Lasergrips®.
Founded in 1994, Crimson Trace has become the undisputed industry leader in laser sighting products for handguns and rail-equipped long guns. They provide responsible firearms owners with a decisive aiming advantage that is reliable, ergonomic and simple to use–making confident and better shooters.
The new Front Line Crimson Trace holsters are available for multiple handguns, including the Kahr P-380, Kel-Tec P3AT, Ruger LC9, Smith & Wesson M&P Shield and Springfield XD-S. Made from natural lubricated leather processed without synthetic additives, the holsters come in a variety of carry options.
"Once again, we have a jump on the competition with our ability to meet market demands quickly and efficiently by developing custom holster molds for every carry scenario," said Shmuel Shachar, Front Line's CEO.
Consumers are invited to take 20% off the entire IDFholsters.com selection for a limited time. Use Promo Code IDFCCW at checkout to apply the discount.
About I DFholsters.com
Designed to satisfy any shooter's possible need, IDFholsters.com was developed in partnership with Front Line, the official holster supplier of Israel's military and law enforcement. Navigating by handgun model or material and style makes it easy to browse the ever-expanding inventory of over 3,000 models. State-of-the-art inventory controls allow for easy purchase and prompt delivery. Launched in May 2014, the site continues to grow with an increasing selection of tactical equipment and weapon accessories.
About Crimson Trace
Crimson Trace manufactures the world's only grip-integrated, instinctively activated laser sights. In 1994, Crimson Trace developed and sold its first laser sight—an internal system for Glock pistols—and the handgun market hasn't been the same since. Just two years later, the newly patented, user-installed Lasergrips® were unveiled at the 1996 SHOT Show and the laser-sighting revolution was on. Over the years, Crimson Trace engineers have dedicated themselves to constant improvement and evolution of products that now number almost 100–all proudly made in the United States.
Contact
Mark Torres
info(at)idfholsters(dot)com
(631) 880-3396 ext. 310
IDF Holsters
170-20 Central Avenue
Farmingdale, NY 11735