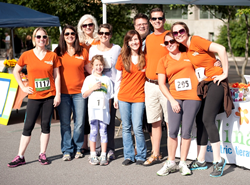 Asheville, NC (PRWEB) August 13, 2014
The Autism Society of North Carolina will hold its 9th annual WNC Run/Walk for Autism on Saturday, September 13. Runners and walkers of all ages participate in this fun family event, which starts at 10:30 a.m. on the UNC-Asheville campus.
Last year's race raised a record-breaking $61,000 as more than 600 participants, volunteers, and a variety of businesses joined to improve the lives of those affected by autism.
The WNC Run/Walk for Autism will include the Diamond Brand 5K race, which is part of the Asheville Track Club Grand Prix Series; a 5K noncompetitive run; and a recreational 1K run/walk.
The WNC Run/Walk for Autism also gives families a chance to celebrate autism awareness and acceptance with their community in the Fun Zone for children and with music and refreshments. Vendor space will showcase local businesses, service providers, support resources, and sponsors.
In North Carolina, 1 in 58 children will be diagnosed with Autism Spectrum Disorder (ASD). Proceeds from the WNC Run/Walk for Autism will fund local programs of the Autism Society of North Carolina (ASNC), the leading statewide resource organization serving people across the spectrum throughout their lifespans: residential, recreational, vocational, and community-based services that make it possible for individuals with autism to lead fulfilling lives; the Sara Handlan Crisis Fund to provide financial assistance for families in crisis in the Asheville area; and support groups, advocacy, and workshops for caregivers and professionals.
Please visit http://www.wncrunwalkforautism.com or call 800-442-2762 to register, join a team, form a team, sponsor, donate, or volunteer.
Background:

Autism Spectrum Disorder (ASD) is a lifelong developmental disability that typically appears during the first three years of life. Recent studies estimate that up to 1 of every 58 children born in North Carolina will be affected by ASD.
For more than 44 years, the Autism Society of North Carolina has worked to address areas of need and expand services for the autism community in North Carolina. ASNC works to directly improve the lives of individuals affected by autism, by providing advocacy, education, and services.
Additional information is available by calling 1-800-442-2762 or by visiting http://www.autismsociety-nc.org.