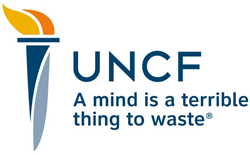 Seattle, WA (PRWEB) August 13, 2014
The Pacific NW office of UNCF (United Negro College Fund) will step out for students at its UNCF Walk, Run, Bike for Education on August 30, 2014 in Seattle at Edwin T. Pratt Park. The event is a celebration of education that will bring together community supporters to raise vitally needed funds to help students get to and through college.
The event day will also feature the UNCF BBQ Cook-off, where amateur grill masters will compete in a BBQ Cook-Off to earn the title of "2014 UNCF Cook-Off Grill Master" and a brand new BBQ grill; and UNCF "Kids Happy Hour," where free turkey hot dogs/burgers and school backpacks will be available for kids under 18 years of age. Other events include a fitness challenge and bike rodeo for kids ages 6-14.
For more information on the Seattle UNCF Walk, Run, Bike for Education and to register, please visit http://www.uncf.org/seattlewalk or contact the UNCF office at (206) 292-8859 or infoseattle(at)uncf(dot)org.
WHO: UNCF (United Negro College Fund)
WHAT: Annual UNCF Walk, Run, Bike for Education
WHEN: Saturday, August 30, 2014
7:30 AM – Registration
8:00 AM – Warm Up
8:30 AM – Walk, Run, Bike
WHERE: Edwin T. Pratt Park
About UNCF
UNCF (United Negro College Fund) is the nation's largest and most effective minority education organization. To serve youth, the community and the nation, UNCF supports students' education and development through scholarships and other programs, strengthens its 37 member colleges and universities, and advocates for the importance of minority education and college readiness. UNCF institutions and other historically black colleges and universities are highly effective, awarding 20 percent of African American baccalaureate degrees. UNCF administers more than 400 programs, including scholarship, internship and fellowship, mentoring, summer enrichment, and curriculum and faculty development programs. Today, UNCF supports more than 60,000 students at over 900 colleges and universities. Learn more at http://www.uncf.org.
####