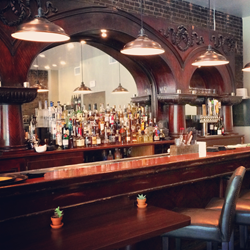 We wanted to expand our beverage offerings to reflect the bounty of summer produce available in the Willamette Valley.
Dayton, Oregon (PRWEB) August 18, 2014
Whether you're craving a delicious burger, looking for the perfect spot to relax with friends or wanting to sample the newest, seasonally-inspired libation, there is one dining destination in the Willamette Valley that has something for everyone.
Located on a historic block across the street from Dayton's Courthouse Square Park near the junction with SE Dayton-Salem Highway 221, The Barlow Room has been serving up fresh cuisine and a comfortable dining atmosphere since opening its doors in June. A family-friendly space with a historic sensibility, The Barlow Room prides itself on using fresh ingredients and providing a unique, relaxing environment that guests want to return to time and time again.
Having run the well-known Joel Palmer House restaurant for many years, Owner/Executive Chef Christopher Czarnecki is excited to add The Barlow Room to his plate. "From our amazing menu of entrees and sandwiches made with the freshest, seasonal ingredients to our weekly specials and relaxed, historic atmosphere fit for any occasion, The Barlow Room is a wine country destination not to miss," says Chef Czarnecki. "We're excited the Willamette Valley and Dayton community has embraced us, and we look forward to welcoming locals and visitors alike."
This summer, The Barlow Room has expanded their classic bar offerings by rolling out a modern craft cocktail program. The new cocktail program features rotating seasonal cocktails with fresh syrups and ingredients. The Barlow Room team uses fresh ingredients, some sourced from their own culinary garden, such as thyme simple syrup, local rhubarb, Lemon Balm Syrup, and House-made Spicy Bloody Mix. Many cocktails also use Northwest crafted liquors, including Interrobang Sweet Vermouth made 10 minutes away in Dundee, Oregon and Batch 206's Counter Gin from Seattle, Washington.
Cocktail purists may find themselves leaning towards the Sage Counter made with counter gin, muddled sage, fresh lime, bitters, and grenadine, but there are several options to choose from! The rotating cocktail menu has most recently featured the following:

Summer Solstice: Buffalo Trace Bourbon, Reeds Ginger Beer, Strawberry, Basil, Rhubarb Bitters
The Barlow Room: Makers Mark Bourbon, Local Muddled Strawberry Interrobang Sweet Vermouth, Lime, Egg White
Vanilla Rhubarb Fizz: Il follo Sparkling Rose, Counter Gin, Local Rhubarb & Tahitian Vanilla Syrup
Dayton Tea: Absolut Wild Tea Vodka, Lemon Balm Syrup, Fresh Tea, Lemonade
Barlowed Thyme: Old Tom Gin, Muddled Oregon Cherries, Thyme Syrup, Orange, Grapefruit, Blue Mountain Cider
"We wanted to expand our beverage offerings to reflect the bounty of summer produce available in the Willamette Valley," says Ryan Sherman, Front-of-House Lead. "We are catering to guests who want to experience everything the valley has to offer – from the world class Pinot Noir to the local Craft Brews to the fresh, seasonal berries and herbs. We're confident that our guests will be pleased with the expanded menu."
The Barlow Room features exposed brick walls, historic photos, and giant picture-window views of the park. The restaurant offers a mix of dining options, including artisanal wood tables, cozy banquet seating, an antique communal table, and comfortable leather-seated wooden booths. A handsome, 1920s mahogany bar faces the dining room creating an inviting setting to enjoy a cocktail like the Dayton Tea, a cold beer or cider on draught, or one of the food-friendly wines (20+ by the bottle, 17+ by the glass).
About The Barlow Room, Restaurant and Bar
Located in downtown Dayton at 306 Ferry Street at SE Dayton-Salem Highway 221, The Barlow Room welcomes guests for lunch and dinner Wednesday through Sunday from 11am to close. The Czarnecki Family remains committed to sourcing meat and produce from the surrounding Yamhill Valley and are excited to offer creative dishes focused on local flavors. The menu features fresh, seasonal ingredients incorporated into signature menu items, including Painted Hills steak bites with house-made Barlow Sauce and fried onions, luxurious Lobster Mac & Cheese with rich lobster cream, gruyere and fontina cheeses, topped with crisp parmesan, and a Grilled Veggie Sandwich with fresh-from-the-farm produce, toasted to perfection. Major credit cards are accepted and takeout is also available. For more information, please call 503-714-4328 or visit http://www.thebarlowroom.com. Gift Certificates off-site catering services for local events are available.