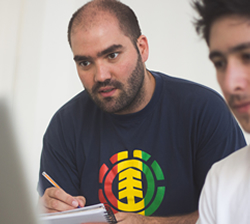 Thanks to User Testing, Making Sense can give users what they need, in order to provide the best service in the market.
San Antonio, TX (PRWEB) August 13, 2014
Last June 4th, Making Sense organized and accomplished a User Testing in CAECE University, Mar del Plata, Argentina -city where its development office is located- with the main purpose of improving the User Experience provided by its Email Marketing App, Doppler.
First of all, Making Sense's team determined a scope, deciding what they were going to test. In this case, they wanted to have opinions regarding a new template editor. After that, another relevant and key aspect to determined are the participants, people who will testing the app. For this Web User Testing the team chose a group of young students between 18 and 25 years-old from CAECE University.
Once the participants and the scope were chosen, the team decided a date and time to have it done. Some of the team members that helped participants throughout this process were: Damian DOnofrio, Doppler's founder; Sol Romeo, Marketing and Communications Manager at Doppler, Lisandro Martinez, Head of UX & Design at Making Sense and Sofia Ferragut, Business Analyst, were in charge of evacuating participants' doubts and any kind of question. There were also some other people involved during the process; Diego Noya, Project Manager and Martin Deniro, UX/UI Designer at Making Sense.
Doppler's Marketing and Communications Manager, Sol Romeo said "This kind of experiences allow us understand how and why an audience establishes an online relationship with our product. It also helps us resolve some other issues or things that we had to improve from our app related with content, design, structure and interaction."
During the session, the first step was to split the group into two. Some of them were given specific details on how to use the editor and the others had the freedom to use it as they liked. The whole activity lasted an hour, and after that the team, together with the testers had a retrospective about their experience while using it.
At Making Sense, one of the most important things to pay attention at is what clients or app users think about the service they provide. Their opinion is the key to improve what the company is offering. It is necessary to keep keep them happy and satisfied, because they are the main part of any business' success.
Making Sense always wants to hear their clients' opinion, regarding the user experience and the interaction between the interface and their users. They apply that in everyday development. For example, their product Lander has recently won an Awwward as "The Site of the Day" and "Developer Award" for their new Responsive Website development project, thanks to the focus they put in their users. Just because no one has complained about an app doesn't mean that all the users are using it efficiently, effectively and to their full satisfaction.
Making Sense's Head of UX & Design, Lisandro Martinez Basabilvaso remarked "We strongly believe this kind of activities with our users are the key of our success and we are sure there will be more User Testings coming in a near future."
About Making Sense
Making Sense is an IT company that has specialized in the development and implementation of software and web applications for different companies since 2006. It has over 130 employees who work in different offices located in the United States, Argentina and Mexico.
The company offers the latest software development strategies, and has many partners worldwide. Some of its most prominent clients include Rackspace, DELL and AMD. The products Making Sense is well-known for include Doppler™, the most widely used email marketing tool in Latin America, which allows users to create, send, analyze and optimize email marketing campaigns very simply, quickly and effectively. Also Lander™, a software tool that enables the creation of professional landing pages in minutes and boasts active users in more than 132 countries worldwide.
In recognition for its work in fostering ArgenTIna IT outsourcing to the U.S., Making Sense received a special mention at the Polo IT Buenos Aires event in December 2012 and was chosen as the national representative to the United States ArgenTIna IT office in Austin, Texas.
Consistently demonstrating a high degree of technical excellence, Making Sense is passionate about maintaining strong commitments to offering outstanding service and quality custom software products.
In 2013, two products developed by Making Sense were nominated to receive the prestigious Sadosky Awards: VidTac (developed by Making Sense for COPsync) gives police department patrol cars high definition video capability while cutting equipment costs. It was developed through joint collaboration with COPsync, which operates the nation's largest real-time information sharing, communication and data interoperability network for law enforcement agencies.
The prestigious Sadosky Awards are awarded each year by CESSI, The Chamber of Software and Computer Services of Argentina, in honor of Manuel Sadosky, an illustrious scientist widely regarded as the father of the Argentinian computer science profession. They celebrate and honor excellence and innovation in the Argentinian software industry. Making Sense is pleased and honored to announce that its product Lander won the 2013 Sadosky Award in the category of Best Information Entrepreneurship Product and was also recognized by Awwwards winning "The Site of the Day" and "Developer Award" for the most useful, innovative, and responsive website development project.