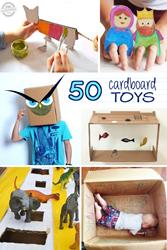 Build houses, bridges, tunnels, and towers with cardboard boxes this week.
Dallas, Texas (PRWEB) August 13, 2014
Everyone has cardboard boxes. Amazing cardboard box crafts and a cute DIY backpack charm has been released on Kids Activities Blog. Turn mail order boxes into amazing activities for kids.
Cardboard boxes can be a lot of fun for kids. Before throwing them away, consider any of the 50 craft ideas from seasoned Moms.
Build a no water needed aquarium complete with fishes and algae. Finger puppets and animal face masks will provide hours of pretend playtime. Let the little kids disappear inside a large cardboard box for an hour with a set of crayons or colored pencils.
Use large boxes to build all kinds of houses, towers, and bridges inside or outside together with the kids. Out of smaller boxes, let the kids create music instruments, knights armor, and mine craft creepers.
Making name keychains or charms is easy with leftover scrabble tiles. Materials needed include two sets of scrabble tiles that spell out name, a keychain ring or backpack clip, a 24″ twine or jewelry cord, and fast acting craft glue.
Begin by tying the cord to the ring or clip according to the instructions on Kids Activities Blog. Set out the letter tiles next to each other in the order of the word. Place glue on the backside of one set of tiles. Then tightly glue them onto the string. Quickly place the corresponding letter tile on the string to form the backside of the keychain. The cute keychain or backpack charm is ready.
For detailed instructions and to get additional fun ideas, check out Kids Activities Blog this week. Come get inspired to have a blast together with the kids.
About Kids Activities Blog
Kids Activities Blog is a website created by two moms (who collectively have 9 children), Holly Homer and Rachel Miller. Their new book was published this spring by Page Street, 101 Kids Activities That Are the Bestest, Funnest Ever! Kids Activities Blog is an interactive website that publishes fun things to do with kids twice a day. It is an amazing resource for moms, dads, grandparents, caregivers and teachers to find kid-friendly activities that create memories and sneak learning into the fun.