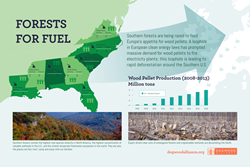 'Our forests contain some of the greatest plant and animal diversity in the world and should not be destroyed to keep the lights on in Europe.'
Asheville, NC (PRWEB) August 13, 2014
A new infographic from Asheville, North Carolina-based environmental non-profit Dogwood Alliance clearly illustrates how the forests of the Southern US are being logged at an increasing rate to fuel European electricity demand.
"We hope this new infographic will help Southerners and concerned citizens across the United States understand the potentially destructive impacts of a growing wood pellet industry," said Scot Quaranda, Communications Director at Dogwood Alliance. "Our forests contain some of the greatest plant and animal diversity in the world and should not be destroyed to keep the lights on in Europe."
Beginning in 2008 with the Green Circle Pellet Mill in Cottondale, FL, the South has been a hot spot of wood pellet development. With these new facilities come direct environmental costs, including increased logging, degradation of important wildlife habitat, loss of forests that are important for sequestering carbon, and impacts on local communities. (1)
Ranging from Virginia to Louisiana, there has been a massive growth in the wood pellet industry responding to growing demand from European utilities. With 20 existing wood pellet mills and another 31 in various stages of proposal and development (2), the Southern US has become the largest wood pellet export region in the world. (3) Companies like Enviva are continuing to propose and build new facilities on a regular basis. (4)
Much of the demand is being driven by the United Kingdom and its principle importing utility Drax (5), while other countries have chosen to meet European carbon emission reduction goals by investing in greater onshore and offshore wind and solar. A recent report from the UK Department of Energy and Climate Change has cast a doubt over the true climate benefits of burning wood for electricity (6).
Sources:
(1) "Biomass Supply and Carbon Accounting for Southeastern Forests," by the Biomass Energy Resource Center, Forest Guild, and Spatial Informatics Group. Published in February 2012.
(2) "Pellet Plants," by Biomass Magazine. Last retrieved on August 11, 2014
(3) "Exportation of Wood Pellets to North America Reached a New Record," by Wood Bioenergy. Published June 18, 2013.
(4) "Wood Pellet Domes Will Change Wilmington Skyline," by Gareth McGrath. Published August 10, 2014 in the Wilmington Star-News.
(5) "The Bonfire of Insanity…" by David Rose. Published March 15, 2014 in the Daily Mail.
(6) "Biomass Report Adds to the Debate on Power Station Subsidies," by Pilita Clark. Published July 23, 2014 in the Financial Times.