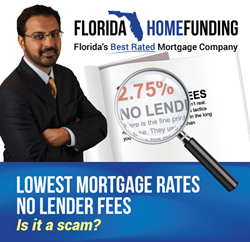 The No Lender Fee Scam
Orlando, FL (PRWEB) August 12, 2014
The often heard term "no lender fees" is nothing more than an advertising gimmick. In reality, nobody is handing out free mortgages. Every bank, lender and broker is in it to make money. Simply put, when a lender advertises "No Lender Fees," this means they have increased the interest rate to offset the cost and maintain their profit margin. The fact is, every bank, lender or mortgage broker can do a loan with no lender fees or no closing costs. The only difference is what rate the consumer is willing to take in exchange.
Most online advertised rates are deceiving. Just like the car industry, you hear advertised deals of "Drive off with a new car, only $199/month". When you get the real story, you find you've got a huge down-payment or it's just the shell of a car. Mortgage rates are the same way. They advertise the lowest rates with discount points for that perfect elite borrower- but the majority of people do not fit into the same criteria, nor do they want to have such high closing costs associated with obtaining that amazingly low advertised rate.
There are certain so-called "direct mortgage lenders" that spend hundreds and thousands of dollars per year preaching a false advertising campaign that claims the only way to get the lowest rates is by using a direct lender and not a mortgage broker. These "direct lenders" focus their marketing efforts on deceiving consumers into thinking that mortgage brokers increase the cost of a loan. This is entirely untrue, according to Shahram Sondi, Consumer Advocate and Principal Broker at Florida Home Funding. The fact is, mortgage brokers receive wholesale rates from many of the same lenders or banks that consumers approach directly. In return, they don't require any upfront mortgage broker fees. The broker's compensation is paid by the bank or lender, not the borrower. The broker markets the product, packages the loan, and is not a paid employee, so it is much more lucrative for a lender to fund a loan and pay a flat percentage to the mortgage broker.
The idea that "mortgage brokers increase costs" on a loan could have been true if the statement was made during the housing boom, before 2008. Not only can mortgage brokers provide lower rates and costs, but with Dodd-Frank and the new anti-steering laws that have been put in place, it is almost impossible for a mortgage broker to steer a borrower to a more expensive loan. Unlike a bank or a lender, who can still manipulate their pricing/profit margins from one borrower to the next, a mortgage broker gets the same compensation whether they're dealing with a poor credit borrower or an A-rated borrower.
The mortgage brokerage is the only transparent business model. They are required to disclose to the consumer their entire compensation from a loan. A bank or a lender is not required, nor does it disclose their profit from a loan. Imagine going to a retail store, and the sales person is required to disclose the profit margins of the store for the items you buy. That doesn't happen in any other industry, other than by a mortgage broker.
Unlike certain preferences in our personal lives, bigger does not mean better. Being a big "direct lender" with millions of dollars in assets does not necessarily mean lower interest rates. The major difference between a bank, lender or broker comes down to how much profit they want to make on a mortgage. Typically, larger companies have a higher cost of acquisition per loan due to their high marketing costs and employee overhead. As such, they have to yield more on a loan to stay profitable compared to a small mortgage broker or lender.
We're not trying to say that all banks and lenders are always bad, and more expensive compared to mortgage brokers. It depends highly on the type of mortgage a consumer is looking for. Sometimes a bank may have a lower rate than a mortgage broker or a lender and vice-versa. For instance, in the current lending environment, a borrower applying for a jumbo mortgage typically gets a better rate at a bank than dealing directly with a lender or broker. This is primarily due to the fact that a lot of the large banks like to maintain a good relationship with their high net-worth clients and to please them, they offer jumbo rates that are even lower than a mortgage broker getting wholesale rates. In other words, the rich get richer.
Mortgage rates change daily. When a consumer is shopping for a mortgage, it is extremely important that they obtain a good faith estimate from their existing bank, a local lender, and a mortgage broker all on the same day to insure that they are comparing apples to apples. It must be a "good faith estimate" and not just a "fees worksheet." This is because a fees worksheet might as well be toilet paper. A "good faith estimate" is the only legal document that binds the lender for that particular day to guarantee the interest rate and the closing costs associated with that rate.
The ultimate lesson to take away from all of this is simple: read the fine print. Don't succumb to high-pressure sales tactics and misleading advertisements. Working with a reputable, local mortgage broker will help borrowers stay informed, build consumer confidence and provide a foundation for intelligent financial decisions with complete transparency.
About: I'm Shahram Sondi, owner and operator of Florida Home Funding, a Florida licensed mortgage broker. As a consumer advocate, I am constantly working to educate consumers on making good financial decisions. I have been serving the Central Florida market with experience and integrity since 2001. For more information, call 407-704-8729 or visit http://flhomefunding.com/.