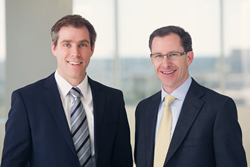 'Probity Advisors has set a standard of excellence and integrity that is adhered to by every member of our staff. This award reflects Chris and Whitney's commitment to our firm's guiding principles.' -- Porter Ozanne, President
Dallas, TX (PRWEB) August 20, 2014
Probity Advisors, Inc. announces that two of its associates, Chris Sorrow and Whitney Magers, have been recognized as "2014 Five Star Wealth Managers" and are featured in a special section of the August issue of Texas Monthly magazine.
Five Star Professional partnered with Texas Monthly magazine to find Dallas/Fort Worth area (DFW) wealth managers who satisfy ten objective eligibility and evaluation criteria that are associated with providing quality services to their clients.
Chris Sorrow and Whitney Magers were selected based on research of thousands of wealth managers in the DFW area. The rigorous research process relies on input from peers, regulatory authorities, and clients. Managers are selected based on their credentials, experience, client retention rates, client satisfaction, compliance and regulatory screening, assets under management, and other factors. The Five Star Wealth Manager award program is the largest and most widely published award program in the financial services industry.
Vice President and Senior Portfolio Manager Christopher Sorrow, CFA®, MBA previously earned this award in 2009, 2010, 2011 and 2013. He has more than 15 years of experience in the financial services industry. Sorrow is a member of the firm's investment committee and oversees the macroeconomic analysis and research that inform the firm's investment decisions. He also leads Probity's compliance department. Sorrow earned his MBA from Southern Methodist University in Dallas and is a member of Beta Gamma Sigma honor society for his academic achievement during graduate school. Sorrow graduated magna cum laude from the University of Rochester in New York with a bachelor's degree in economics. Prior to joining Probity, he advised hedge funds on mergers and acquisitions as an analyst at an economic consulting firm in Washington, DC. Sorrow resides in Dallas with his wife and daughter.
Financial Advisor Whitney Magers earned a degree in finance from the University of Virginia in Charlottesville, VA, and he is a graduate of Highland Park High School in Dallas. Magers is active in several Dallas charitable and community organizations and is a frequent guest speaker for non-profit groups on estate planning topics and charitable giving. He is a board member and former president of the Calyx Club. Magers launched his career in the investment banking industry, working in New York and in San Francisco prior to transitioning to wealth management. He currently resides in Dallas with his wife and two children.
"Probity Advisors has set a standard of excellence and integrity that is adhered to by every member of our staff. The Five Star award reflects Chris and Whitney's commitment to our firm's guiding principles and demonstrates their long-standing dedication to helping individuals achieve their financial goals," said Porter L. Ozanne, III, president.
About Probity Advisors, Inc.
Probity Advisors is a fee-based financial services company whose goal is to build lasting relationships and help clients achieve their long-term objectives. For more than 60 years, Probity has helped individuals, families, and businesses manage their financial assets and resources in order to achieve financial independence and security.
About the research process
Now entering its 12th year, Five Star Professional conducts in-depth, market-specific research in more than 45 markets across the United States and Canada to identify premium service professionals. Wealth manager award candidates are identified through firm nominations, peer nominations and industry qualifications, and then evaluated on 10 objective eligibility and evaluation criteria including; client retention rates, client assets administered, firm review, and a favorable regulatory and complaint history. Self-nominations are not accepted and wealth managers do not pay a fee to be considered or awarded. The award is not indicative of the wealth manager's future investment performance. For detailed information on the Five Star Wealth Manager research methodology visit http://www.fivestarprofessional.com.