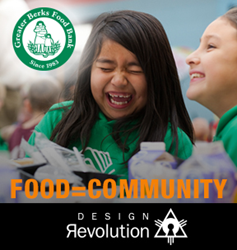 'We are proud to call this website our own and believe it accurately represents the role our organization plays in our community.'
Reading, PA (PRWEB) August 13, 2014
Design Revolution Studios (DRS), Reading's celebrated woman-owned, full-service strategic marketing firm and creative ad agency, is excited to announce the new website developed for the Greater Berks Food Bank (GBFB), a nonprofit organization fighting to end hunger in Berks and Schuylkill Counties. The GBFB currently collects, purchases, stores, and distributes over seven million pounds of food to over 300 distinct community programs and designates 96% of all donations raised directly to food and services that feed the hungry.
The Great Recession had affected everyone, from white to blue collared workers and especially those already impoverished – transcending all socioeconomic boundaries. The Greater Berks Food Bank was facing a surge in requests for their services in a short amount of time. GBFB, currently building a larger facility in Spring Township to meet mounting demands, realized they also needed a more effective website to better serve donors and volunteers, as well as the hungry seeking food and programs in their towns. GBFB then approached Design Revolution, known for applying practical strategies and tools to community outreach organizations and corporate clients, to develop a website that would educate, engage, and communicate precisely what GBFB does and, most importantly, connect those in need with the resources to find the necessary level of aid.
"From the initial planning discussions, through the creative process and completion, the team at Design Revolution provided everything we wanted without losing visual appeal and having something that could evolve as technology changes," regarded Doug Long, GBFB Manager of Marketing and Development. "The finished site is crucial for all of our partner agencies and for those who want to donate to help feed the hungry. We are proud to call this website our own and believe it accurately represents the role our organization plays in our community."
The new cross-platform site features vibrant dynamic photography, powerful hunger education resources, integrated social media, and ease-of-use navigation. The site utilizes technology such as parallax scrolling, which creates an illusion of depth in a 2D environment by moving two or more objects simultaneously. DRS, who trained GBFB's staff on how to make website changes on their own, also structured administrative access to not only reduce ongoing maintenance costs but also easily allow for future site expansion. Design Revolution's unique approach to marketing and creative design has resulted in an uplifting website designed to reduce response time and display the resources available to connect the hungry with aid and for donors and volunteers to obtain information on how to combat the hunger epidemic.
"I could not be happier with the website Design Revolution designed for us," remarked Peg Bianca, Executive Director of GBFB. "Our new website offers us an online presence worthy of the important work we do in our community. Those who wish to learn more about our work, volunteering, or food donation have an attractive, easy-to-navigate, informative, and engaging website to guide them in their desire to help."
About Design Revolution Studios, LLC
Design Revolution Studios, LLC is Reading's leading woman-owned, full-service strategic marketing firm and creative ad agency centrally located between New York City and Philadelphia. Design Revolution's success is derived from their innovative and unconventional views on modern marketing. You can consider it the perfect blend of science, marketing, graphic design, technology, and economics. Both qualitative and quantitative, their strategies reduce risk and maximize the performance of campaigns to achieve bottom-line results – results that have been achieved and implemented in both international and domestic markets. Design Revolution's uniquely talented team manages multi-media campaigns and engages audiences via marketing strategy, brand management, graphic and interactive design, PR, social media, and HD/4K video production. Ready for a refreshing change in your agency relationship? Please contact their office to schedule an initial consultation or to request further information.