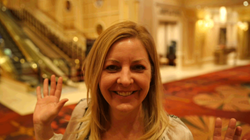 "We are proud to bring on a director with so much diverse industry experience, positive attitude, and drive."- Matt Davies, GCN Editor-in-Chief
Vancouver, Wa (PRWEB) August 12, 2014
Weaver, as Director, will be responsible for the overall success of the network, meeting goals of providing exposure, opportunities, and support for members and the gift card industry as a whole. Weaver will spearhead business development, marketing, committee moderation, the development of peer contributed educational content, events, and member benefits.
The Gift Card Network's previous director, Matt Davies, owner of GCN's media partner Powerhouse Brands, will become Editor in Chief of the Network's content, and will remain involved in committees and other aspects of the Network pertaining to content and member benefits.
Weaver comes to the Gift Card Network with over 14 years of gift card industry experience. Most recently, Weaver held the position of Product Marketing Manager for GCN member Travel Tags, Inc, where she focused on deep market research, trend analysis, product development, and drove marketing initiatives. In addition to Travel Tags, Weaver has held gift card related executive positions at Arroweye Solutions and Target Corporation. Martha has been involved in the Gift Card Network in many ways since its inception, sitting on a number of committees to help steer the direction of the network, and co-chairing the GCN Education Committee.
"I am excited to join the Gift Card Network in this role. Having been a member of the Network for the past three years, I have continually been impressed with its goals, membership commitment, and vision for the future," said Weaver, "I look forward to helping accelerate what has already been created and help move our industry forward thru education, collaboration and enhanced member connections."
Matt Davies, now Gift Card Network Editor in Chief, stated, "Martha has been incredibly supportive to our overall goals, is well respected in the industry, and has wonderful perspective. She is experienced and talented at mediation, and most importantly, understands the needs of our members."
About the Gift Card Network:
The Gift Card Network is a the first gift card-specific marketing and collaboration platform. The network focuses on the identification of vital issues in the gift card industry and empowering its members to address these issues using connection, collaboration, and creativity. Members include companies that focus on the gift card industry. Find Everything Gift Card at thegiftcardnetwork.com.