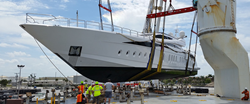 Request A Quote Today: Captain Charlie Johnson West Coast Sales Director Charlie(at)United-Yacht(dom)com; 425.985.9418
Fort Lauderdale, FL (PRWEB) August 13, 2014
Captain Charlie Johnson has over 25 years of experience captaining yachts ranging in size from 70 feet to 225 feet. He has cruised on yachts from Alaska down through Central and South America, the East Coast of the United States, all through the Caribbean and Europe. This includes 23 transits through the Panama Canal.
Captain Johnson has also been a Project Manager/Owners Representative/Captain on seven new build yachts over the years. Captain Charlie Johnson holds a 1600 Ton USCG/3000 Ton International Master of Oceans License, with endorsements from the Cayman Islands as well as the Marshall Islands. Captain Johnson has an extremely impressive marine industry track record that speaks for itself through knowledge and reliability.
Johnson has firsthand experience in understanding the value of yacht transport versus running the boat on its own bottom. "Taking a yacht on a long transit puts hours on the engines and generators, plus there is always a possibility of damage due to weather, mechanical breakdowns or questionable docking situations that will no doubt occur due to stopping for fuel, provisions, repairs or anything else that might happen on a long transit. There is the possibility of delays in the schedule due to weather and the above mentioned events, in my experience happens quite often," describes Captain Johnson.
"By shipping a yacht instead of making the transit on her own bottom, all the guess work is negated, the vessel gets loaded safely and arrives at the scheduled port on time, the owner/captain is there to meet the vessel and drives it away after it is re-launched from the ship, this allows the client to plan a schedule that can be kept, without any delays due to weather, mechanical breakdowns, or any other events that generally occur," yacht transport advice by Captain Johnson.
"We are expanding our presence in the Pacific Northwest and are pleased to add someone of Captain Charlie's caliber. Captain Charlie fits in well with our team and brings a high level of boating expertise as a superyacht captain that will prove invaluable to our clients," says Paul Haber, President of United Yacht Transport LLC.
Captain Charlie Johnson is a Pacific Northwest Native and will be based in Seattle, WA. With his global reach, he is available to help anyone with their shipping needs from anywhere in the world, to anywhere in the world they want their yacht to go!