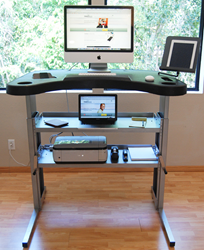 The Kickstarter campaign for TrekDesk II has also been launched in hopes of keeping the manufacturing here in the United States.
Phoenix, AZ (PRWEB) August 13, 2014
TrekDesk II introduced just last week to the Kickstarter community is gaining momentum with a funding level approaching 20% in its first seven days.
Designed by the innovators behind the first affordable treadmill desk (the TrekDesk) TrekDesk II is a combination desk that can be used as a regular desk, a standing desk, a sit-to-stand desk, or a motion desk (treadmills, steppers, ellipticals) and changes as an individual's needs change. This allows employees to ease into moving more during the day in the event they are uncertain about their abilities to walk all day with a treadmill desk.
"We originated the idea for the first affordable treadmill desk that would fit any existing treadmill in 2008 when nearly everyone thought it was a ludicrous idea. Five years later the concept of walking while working has been accepted as a significant option in the fight against diseases caused by sedentary lifestyles," stated Steve Bordley, CEO of TrekDesk Treadmill Desk. "We have learned quite a lot about our customer's needs and their challenges bringing in treadmill desks to the office over the years. We decided it was time to design a desk that could be used in multiple capacities answering those concerns while encouraging a path to health. That is the impetus behind the TrekDesk II."
TrekDesk II is a multi-function product that allows a user to start with a regular desk and graduate to standing or sit-to-stand status while allowing the eventual addition of motion devices such as treadmills, ellipticals, or step machines.
"Our main goal is to get employees up and out of their chairs," stated Bordley. "Once someone starts standing while working they start weaning themselves from chairs. That strengthens their back muscles and also motivates them to move more. A body in motion tends to stay in motion and people are surprised to learn that they can stay upright and in motion for most if not all of the day. It is, after all, how we evolved so it should not be a surprise that our bodies require and crave motion."
The Kickstarter campaign for TrekDesk II has also been launched in hopes of keeping the manufacturing here in the United States and offers significant pricing discounts.
Visit https://www.kickstarter.com/projects/trekdesk/trekdesk-ii-adjustable-standing-sit-to-stand-tread to see full details of TrekDesk II's Kickstarter campaign.
Designed as a single product that meets multiple needs and encourages movement in stages, the TrekDesk II is an affordable, full sized, height adjustable workstation that allows individuals the opportunity to gain the necessary amount of daily exercise to lose weight, maintain health, reduce stress, prevent disease, strengthen muscles, boost mood and productivity, without requiring additional time during the day or extra motivation.