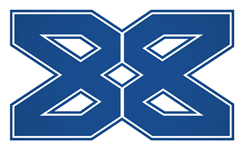 'Official Brands is excited to be launching the official brand for an amazing athlete and one of the most fan-friendly celebrities in sports,' Dez Bryant, President Ryan Totka said.
Dallas, Texas (PRWEB) August 28, 2014
Dallas Cowboys Pro Bowl wide receiver, Dez Bryant, ventures into the entrepreneurial world, launching his "ThrowUpTheX™" brand, which is based off his fan favorite signature end zone celebration of the same name. Bryant, in partnership with Official Brands™, will offer a full line of apparel including men's and women's clothing, head wear and accessories.
As one of the top wide receivers in the NFL, Dez is becoming one of the biggest names in sports. For the past four seasons football fans have gravitated to number 88, as he has become Tony Romo's top target. Bryant's tremendous athletic ability and acrobatic catches have become a constant sight on NFL highlight reels and recently voted "Favorite Catch" by fans during the 2014 Nickelodeon Kids Choice Sports Awards.
Bryant's signature, "ThrowUpTheX" has been a celebration that he's been delivering to crowds since high school that quickly became a trend adapted by fans and all throughout sports. Heisman Trophy winner Johnny Manziel and NBA stars Marcus Smart, Russell Westbrook, and LeBron James have all been seen "throwing up the X", amongst others.
Bryant, excited about the launch says, "'ThrowUpTheX' is not just for athletes. It's a positive movement that celebrates everyone who scores a touchdown in their daily lives." On the ThrowUpTheX.com website, fans will have the opportunity to submit and be featured sharing their greatest "ThrowUpTheX" moments.
Pre-orders for limited edition merchandise can now be purchased at ThrowUpTheX.com.
For more information on Dez's career accomplishments, latest news, appearances and accolades, visit his official website, http://www.DezBryant.com.
To Connect with Dez:
http://www.DezBryant.com
http://www.Twitter.com/DezBryant
http://www.Instagram.com/DezBryant
http://www.Facebook.com/DezBryant88
Official Brands, Inc. offers fans direct access to exclusive "official" athlete merchandise. They work direct with the athlete to create a unique brand both online and offline, based on their style and image.