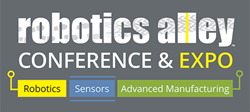 Two leading international professionals will be speaking in the Health Care & Medical Device track of 2014 Robotics Alley Conference & Expo
Minneapolis, Minnesota (PRWEB) August 15, 2014
Two leading international professionals will be speaking in the Health Care & Medical Device track of 2014 Robotics Alley Conference & Expo on the topic of "Technology for Independent Life." The presentations will be moderated by Lars Oddsson, an experienced biomedical scientist, investor, visionary entrepreneur and former director of research at the Courage Kenny Rehabilitation Institute. The 2014 Robotics Alley Conference & Expo will take place on September 16-17 at the Minneapolis Marriott Northwest with virtual business tours on September 18.
Note: Early-bird registration pricing ends Friday, August 15.
The first presentation will be given by Dr. Takanori Shibata, Chief Senior Research Scientist, Human Technology Research Institute, National Institute of Advanced Industrial Science and Technology (AIST) – Japan. Shibata received a B.S., M.S. and Ph.D. in Electronic and Mechanical Engineering from Nagoya University. He was a research scientist at AIST and was concurrently a visiting research scientist at the Artificial Intelligence Lab, MIT, and a visiting research scientist at the Artificial Intelligence Lab, University of Zurich. Dr. Shibata was the Deputy Director for Information and Communication Technology Policy, Bureau of Science, Technology, and Innovation Policy, Cabinet Office, Government of Japan. He is also the inventor of a seal robot named PARO, certified by Guinness World Records as the World's Most Therapeutic Robot in 2002.
His presentation, "Seal Robot, PARO, as Neurological Therapeutic Medical Device," will dive into robot therapy. PARO, a seal robot, is an FDA certified neurological therapeutic device in bio-feedback medical device. Shibata will explain the research that has revealed robot therapy to have a similar effect on patients as animal therapy. The seal robot began development for robot therapy in 1993. PARO was then commercialized in Japan in 2005 and in Europe and the U.S. in 2009. Since then, about 3,000 PAROs have been used in hospitals and care facilities in approximately 30 countries. This presentation focuses on PARO's use with elderly dementia patients, as explicit differences can be easily observed before and after interacting with PARO.
The second presentation will be given by Adam Hagman, Robotdalen – Manager Health Robotics, Technologies for Independent Life, Mälardalens University – Sweden. Robotdalen is an initiative financed by the Swedish Government and European Union that focuses on development, implementation and commercial success of robotic innovations for health care and elderly care.
Hagman's presentation, "Lessons Learned from World's Largest Test-Bed for Technologies for Independent Life," discusses the belief that technology will help us with the coming demographic challenge. Governments and the European Union are plunging billions into the development of robotic devices that will take care of our future seniors. This presentation will answer questions such as if we are on the right track, the elderly care industry's skepticism to robotic solutions, ethics, and more. Hagman will also highlight important aspects that should not be forgotten when we develop and implement robotic technologies for this industry.
For more information and to register, visit http://www.roboticsalley.org.
About Robotics Alley
Robotics Alley™ is an initiative to spur public-private partnerships in the business, research, and development of world-leading robotics and automation systems. The leading companies, organizations, universities, and individuals working together through Robotics Alley are involved in some of the world's most innovative and promising robotics projects. Robotics Alley is owned and produced by The Event Group, a full-service event production and marketing agency based in Minneapolis.