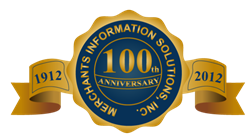 Phoenix, AZ (PRWEB) August 19, 2014
Merchants Information Solutions, Inc. today announced the addition of Stephen Gilliland, Ph.D. and Associate Dean for Executive Education in the Eller College of Management at the University of Arizona, and Ron Sable, President of Concord Solutions to its Board of Directors.
"Merchants is a leader in providing world class integrity tools for industry and non-profits alike, and I am honored to join their outstanding organization," said Mr. Sable.
Dr. Gilliland said: "Having spent the past 25 years studying fairness and integrity in the workplace, I look forward to serving the Board of Merchants, a company devoted to promoting these core values."
"Stephen and Ron are highly active individuals across a wide variety of roles, both in business and in the community, having experience ranging from teaching senior executive courses to leading billion dollar organizations. Their civic mindedness complements our core philosophy of integrity and their business acumen is immense, making them excellent additions to our Board of Directors and we look forward to their support as we continue to grow our business," said Russ Johnson, President & CEO of Merchants.
About Dr. Stephen Gilliland
Dr. Stephen W. Gilliland is the Associate Dean for Executive Education in the Eller College of Management at the University of Arizona. He holds the Arnold Lesk Chair in Leadership also serves as Executive Director of the Center for Leadership Ethics. He previously served as vice dean for the Eller College. Prior to moving to Arizona, Gilliland received degrees from the University of Alberta and Michigan State University (Ph.D., 1992) and was on the faculty at Louisiana State University.
Professor Gilliland's research examines the fairness of management practices and policies and the impact of fair leadership on employee behaviors. Through this merging of social, legal, and managerial issues, he has authored over 50 journal articles, books, and book chapters. He has served on the editorial boards of the Journal of Applied Psychology, Personnel Psychology, and the Academy of Management Journal. In 2006, Gilliland was elected as a Fellow in the Society for Industrial and Organizational Psychology (SIOP). He was also the 1997 recipient of the Ernest J. McCormick Award for Early Career Contributions from SIOP.
Professor Gilliland has taught numerous courses on business ethics, human resource management, general management, healthcare entrepreneurship, and social entrepreneurship. He has developed and taught executive leadership programs for healthcare, public sector, and mining organizations. He has consulted with small and large, public and private organizations on strategic planning and implementation and executive team development.
About Ron Sable
Mr. Sable is President of Concord Solutions Ltd., a business consulting practice for commercial and non-profit entities. He is Chairman of the Board of the University of Arizona Center for Leadership Ethics in the Eller College of Management, a member of the Board of Paragon Space Development Corporation, IDAir Corporation, and the DM 50. He was a senior executive at The Aerospace Corporation, and McDonnell Douglas Corporation, where he led government relations for the $18B firm.
Before joining McDonnell Douglas, Mr. Sable was Special Assistant to President Reagan for National Security Affairs. In that role he was the lead White House liaison with the U.S. Senate on defense, foreign policy, intelligence, arms control and banking issues.
He served as an Air Force pilot (Colonel) and was an Outstanding Graduate of the Air War College. A graduate of Iowa Wesleyan College (BS), he has an MS in International Relations from Southern Illinois University and a Doctorate of Humane Letters (honorary) from Iowa Wesleyan. He is a graduate of the Harvard University Program in National & International Security, the Wharton School Executive Program in Finance, the UCLA Anderson School Program in Mergers and Acquisitions, and the Capitol University School of Banking.
He is the former Chairman of the United Way of Tucson and Southern Arizona and the recipient of the 2011 United Way "Live United" award for community service, he also is a recipient of the Distinguished Alumni Award from Iowa Wesleyan, the George Washington Honor Medal, the Distinguished Flying Cross, Meritorious Service Medal and the Air Medal (3 OLC), and is a licensed commercial pilot with instrument and type rating.
His views on subjects ranging from board of director responsibilities to national security, ethics in leadership and the challenges of our environment have been featured at the United Nations, in the New York Times, the Wall Street Journal, the Washington Post, Fast Company Magazine, The Arizona Star, and on NPR.
About Merchants Information Solutions
Merchants Information Solutions, the exclusive provider of the Merchants Pre-employment Integrity Test which is proven to reduce worker compensation loss rates an average of 60%, is a national leader in background screening for employers and residential communities as well as a leader in ID Theft Restoration Affinity programs. Honored to have as company national spokespersons Jerry Colangelo and Harvey Mackay, Merchants was founded over a century ago and is dedicated to delivering world-class identity theft and background screening solutions. Merchants is the only national singlesource provider of all recognized background screening tools and services for employers and multi-housing communities. http://www.merchantsinfo.com