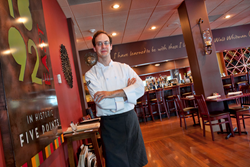 "Our dining scene is thriving and diverse, representing a multitude of cultures and that is a big draw for leisure travelers as well as meeting attendees considering our community as their next host."-Judy Ryals, Huntsville/Madison County CVB
Huntsville, AL (PRWEB) August 13, 2014
Have a craving for tournedos of beef au poivre with brandy cream sauce from Nick's Ristorante? Or what about some good old-fashioned fried green tomatoes from D'Licious Dining? No matter what your palate craves, Huntsville Restaurant Week August 15-24, 2014, is the time to find new dining dives and revisit old favorites while enjoying special prices.
The Huntsville/Madison County Convention & Visitors Bureau, city officials and local hospitality industry leaders announced the details of Huntsville Restaurant Week 2014 at a media event Tuesday. Thirty-nine local eateries are participating with special deals for lunch and/or dinner, marking the largest Huntsville Restaurant Week to date with the highest number of participating restaurants.
Lunch specials include fixed-price selections at $5, $10 or $15 featuring a main course and appetizer or dessert. Dinner specials include selections at $10, $20 or $30 and feature a main course, appetizer and dessert. Restaurants may choose to offer any combination of the above specials. For a list of participating restaurants and their specials, visit huntsville.org/restaurantweek.
Judy Ryals, President/CEO of the Huntsville/Madison County CVB, encouraged residents and visitors alike to celebrate local dining offerings during Huntsville Restaurant Week.
"Huntsville Restaurant Week highlights the unique culinary offerings only available in the Rocket City and Madison County…and at great savings to the consumer!" Ryals said. "Our dining scene is thriving and diverse, representing a multitude of cultures and that is a big draw for leisure travelers as well as meeting attendees considering our community as their next host."
Madison County Commission Chairman Dale Strong encouraged the local community to get out and get eating.
"This is a great opportunity to support our Madison County businesses while taking advantage of discounts and enjoying great food," Strong said.
"Sampling new and different foods is always fun, and Restaurant Week provides the perfect opportunity for us to tackle new culinary pleasures," Huntsville City Administrator John Hamilton said. "For the budget conscious, the family on the go, or the gourmet seeker, Huntsville restaurants have something to offer everyone."
Several new events and online activities will take place as part of Huntsville Restaurant Week 2014 including:
A Night Out With The Chefs
Thursday, August 14
7-9 p.m. at Straight to Ale
The official kick-off event for Huntsville Restaurant Week 2014, A Night Out With The Chefs, will feature Chef Merle Phillip (The Eaves Restaurant), Chef Chris McDonald (Humphrey's Bar & Grill), Chef Matt London (The Bottle) and Chef Matt Martin (Jackson Center) as they share their favorite recipes to demonstrate and prepare samples for event attendees. Straight to Ale will provide craft beer samples. Host and food author/blogger from SouthernPlate.com Christy Jordan will be on hand to get to know the personal and professional sides of participating chefs.
Proceeds benefit the nonprofit Deep Roots, dedicated to increasing healthy food accessibility in under-resourced areas of North Alabama. Tickets to this event are sold out.
Rocket City Food Bloggers Tour
August 15-17
D'Licious Dining, Sady's Bistro at Providence and New Market BBQ
Six of Huntsville's most popular food bloggers will come together for a lunch tour of three participating Restaurant Week establishments. On Friday, the food blogger crew will meet at Sady's Bistro at Providence at 12 p.m. On Saturday, the group will convene at D'Licious Dining at 1 p.m. The Rocket City Food Bloggers Tour will wrap up at New Market BBQ at 1:30 p.m. on Sunday. Media are encouraged to meet the bloggers at any and all stops on the food tour.
Participating bloggers for the Rocket City Food Blogger Tour include:
Christy Jordan: Southern Plate
Paula Claunch:AKA Jane Random
Amanda Conger: The Dining Dragon
Constance Smith: The Foodie Army Wife
Sarah Belanger: The Jealous Crumpet
Stephenie Walker: RocketCityMom
#DineHSV and WIN!
August 15-24
The Huntsville/Madison County CVB will be hosting 10 days of giveaways. Simply tweet or post to social media using the official Restaurant Week hashtag #DineHSV and tell your favorite part of Huntsville Restaurant Week, what dish you most want to try, etc. One winner will be chosen each day of Restaurant Week to win a gift certificate to participating restaurants.
Huntsville Restaurant Week is a part of the larger Alabama Restaurant Week. Huntsville leads the state in restaurant participation for the free-to-enter Alabama Restaurant Week. For a full listing of participating Alabama eateries, visit AlabamaRestaurantWeek.com.
For more information, contact Jessica Carlton, Marketing Manager at the Huntsville/Madison County CVB, at 256.551.2294 or by e-mail at jessica(at)huntsville(dot)org.
About Huntsville/Madison County CVB
The Huntsville/Madison County Convention & Visitors Bureau (CVB) is a non-profit 501(c)(6) organization which was developed in 1970 to create economic growth for Huntsville/Madison County by marketing the community as a top-of-mind convention and visitor destination. As the official city/county agency which promotes the area as a tourist destination and convention site, the CVB partners with an array of hospitality industry partners to market our destination to visitors of all types.
###