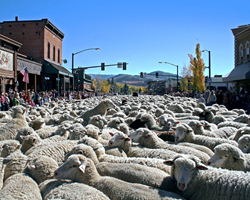 Sun Valley, ID (PRWEB) August 14, 2014
Trailing of the Sheep Festival - A Remarkable Cultural Weekend
Wild and Wooly Event Awaits Visitors
Get immersed in Sun Valley's unique cultural heritage at the 18th annual Trailing of the Sheep Festival, held October 9th – 12th , 2014. Every year the popular Trailing of the Sheep Festival celebrates the 150+ year tradition of moving sheep from mountain high country south through the valley to traditional winter grazing and lambing areas. This annual migration is Idaho living history and a weekend long family-friendly festival that highlights the people, arts, cultures, and traditions of sheep ranching in Idaho and the west. This is not a reenactment; this is living history at its best.
Most notable of the weekend's events is the Trailing of the Sheep Parade where spectators watch over 2,000 sheep get driven down Main Street in Ketchum as they have been for over a century. Other event highlights include culinary offerings featuring lamb in all its various forms, cooking classes, the Sheep Tales Gathering of storytellers, the Fiber Festival, the Championship Sheep Dog Trials, and the Sheepherders Ball to name a few.
The Trailing of the Sheep Festival has garnered its share of top accolades including being recognized as one of the Top Ten Fall Festivals in the World by msn.com travel, Top Animal Festivals in the World and Top Ten Fall Festivals by USA Today, One of the Greatest Cultural Events in the West by Northwest Travel and is the recipient of the Idaho Governor's Award for Cultural Heritage.
In 2014, the Festival begins a three-year program "Celebrating Generations." We listen, learn, share and save the memories of our western families – dreamers, all of them, who live and work the land and are the keepers of open space. Ranching families will be attending from around the west to share their stories and help trail the sheep through the Wood River Valley. For more information, lodging, transportation and schedule of events visit: http://www.visitsunvalley.com or http://www.trailingofthesheep.org.