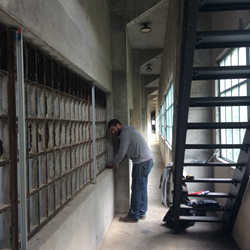 FOR-SITE turned to Indow Windows to custom engineer a solution that will shield visitors from Alcatraz's broken gun gallery windows without leaving a mark.
Portland, Oregon (PRWEB) August 14, 2014
Indow Windows will spend time in the slammer creating greater public access to America's most famous former federal penitentiary so the world can see the latest exhibit by Chinese artist and dissident Ai Weiwei.
Ai Weiwei, known for his work on freedom of expression and human rights, was once under house arrest and even now can't leave China. This was one of the many challenges of putting together the show. Part of the vision for his exhibit at Alcatraz calls for visitors to look down at his art from a gun gallery full of broken windows where guards once trained their weapons on prisoners below.
But that meant opening a part of Alcatraz off-limits to the public. FOR-SITE, the foundation organizing @Large: Ai Weiwei on Alcatraz, had to carry out this powerful vision without putting a single nail or screw hole in this National Historic Landmark. FOR-SITE turned to Indow Windows to custom engineer a solution that will shield visitors from Alcatraz's broken gun gallery windows without leaving a mark. Visitors will view Ai Weiwei's work through transparent Indow Windows inserts, which will protect them from broken glass as well as the building from any further damage.
Indow Windows' unique window inserts press into place using the company's patented Compression Tube without screws or any other damaging changes to the existing structure. The company's San Francisco dealer, Kevel Home Performance, expertly laser measured the length of the gun gallery to create the company's biggest order ever. Indow Windows' innovative cleantech product is one reason FOR-SITE managed to put together this exhibit opening September 27 at one of America's most popular tourist attractions, just nine months after receiving State Department approval.
The gun gallery is in the two-story New Industries Building, constructed between 1939-1941, where inmates did laundry for the military and manufactured clothing, clothes, shoes and brushes. It replaced the nearby Model Industries Building, which was the site of several attempted escapes.
Indow Windows creates a more energy-efficient built environment while preserving and saving America's historic windows.
About Indow Windows
Indow Windows was founded in 2010 after CEO Sam Pardue found a better way to insulate the windows in his 1906 Portland Craftsman home. The result: Indow Windows, custom-manufactured sheets of acrylic edged with the company's patented Compression Tube. The inserts are now sold in 34 states and Canada. They are made in Portland with materials 100 percent made in the USA.
The company has received national accolades for its design. It won the 2014 Top Product of the Year Award in the Environmental Leader Product & Project Awards as well as the 2013 BetterBricks Special Judges Award. Dwell Magazine named it one of the Top 10 products at Greenbuild 2012. It won the national Energy Efficiency Award at the CleanTech Open in 2011 and a Bronze Award in the Energy Efficiency category at the Edison Awards.
Learn more about Indow Windows at http://www.IndowWindows.com.