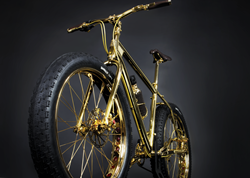 It is truly a common sense guide to living a happy and productive life.... Honesty and kindness are contagious. The sharing of these traits will make our world a better place. - Undersecretary of the Army, Washington, DC
Burbank, CA (PRWEB) August 14, 2014
Moto Empire and eBay Giving Works are proud to present for immediate delivery the world's first 24K gold-plated extreme "Fat Tire" bike – The Gold Bike! Unlike any other bike on planet Earth, this beautifully handcrafted riding machine elegantly smashes together opulent luxury and extreme-sport functionality.
If the idea of outrageous bling meeting all-terrain extreme appeals to your warrior senses, then behold this golden chariot.
Simply known as "The Gold Bike", this unique objet d'art is the brainchild of Hugh Power, founder of the "The House of Solid Gold" in Beverly Hills, California.
From the 24K gold plating, diamond and sapphire accents, to the massive, fat, knobby tires, this beautiful work of art is definitely reserved for that individual who can appreciate its stunning allure and rugged wow factor.
While The Gold Bike's appeal is already over the top, it gets even better...
Proceeds from the bike's sale go straight the non-profit organization, The Way to Happiness International, a charity that is quickly changing the world with its programs that accomplish peace and understanding.
This is an extreme bike for the extreme personality, benefiting an extremely good cause.
ABOUT THE GOLD BIKE
From the entire frame down to the tiniest screw, each bike part undergoes a meticulous electroplating process that liberally covers it in pure 24K gold. This is old-world, spare-no-expense craftsmanship at its finest, and it takes a master artisan-scientist to do it.
The shimmering gold is only one amazing facet of The Gold Bike. It also features more than 600 black diamonds and 500 golden sapphires that embellish and emblazon The House of Solid Gold logo.
The bike is not solely for looks. Its "Fat Tire" design allows users to circumnavigate through sand, snow, mud and other terrain where conventional off-road bikes would get bogged down.
The entire process to build this one-of-a-kind bike requires more than 750 single man-hours over a 2-year time frame. It takes timeless patience and an ace alchemist to pull off such a magical creation.
ABOUT THE DESIGNER
Hugh Power is the master goldsmith behind The Gold Bike. Power started impacting the art industry when he studied science and oceaneering in college. He went on to work as a commercial diver for a decade before taking up gemology in Tahiti and French Polynesia. From there, he introduced black pearls to the U.S. market and became world-renowned for creating and designing luxury and award-winning jewelry and eyewear.
ABOUT THE CHARITY
The Way to Happiness Foundation International works across the globe to promote non-violence, honesty and trust. As a non-profit and non-religious charitable organization, The Way to Happiness Foundation International was founded in 1984 and is based in Los Angeles, California.
Its primary publication, "The Way to Happiness," has exceeded 100 million copies and is printed in 97 languages and widely distributed in 170 countries worldwide.
"We greatly appreciate your efforts in improving Mankind, providing a better future for the people in Ukraine and in the world.... It would be wonderful to have at least one copy of this magnificent book at every school and library." - Ministry of Education, Kyiv, Ukraine
Whether you are a Viking warrior traversing the icy tundra or a veiled rider making a conquest of the rippling sand dunes of the Middle East, this golden steed shreds the roughest terrain while making the most commanding statement possible.
THIS DONATION INCLUDES:

"The Gold Bike" – The world's first 24K Gold Extreme Mountain Bike
White glove delivery service of "The Gold Bike" by Master Goldsmith Hugh Power to anywhere in the world
Framed certificate of authenticity signed by designer Hugh Power
Custom personalized laser-engraved badge on bike
Celebratory acknowledgment of philanthropy in the buyer's honor by The Way to Happiness International.
ABOUT MOTO EMPIRE
Moto Empire is a subsidiary of Techno Empire, Inc. which was founded 15 years ago as a service that handles the sale of valuable musical instruments and recording gear for busy professionals in the entertainment industry. The demand for this service evolved as many of Techno Empire's clients began requesting help with the sale of their personal assets such as cars, motorcycles, and other luxury vehicles such as The Gold Bike.