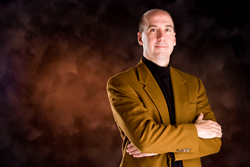 When it comes to future trends in technology, don't just expect to told where to turn or when to book your flight; expect to have these actions taken for you before you even think or know to take them yourself.
Charleston, SC (PRWEB) August 14, 2014
The 2014 7x24 Exchange of Atlanta and the Carolinas will be held in Charleston, SC on August 14th and futurist Jack Uldrich is keynoting the event. The 7x24 Exchange is hailed as the "the end to end reliability forum", and their mission is to "promote better understanding of the design, implementation and management issues involved in achieving high levels of uninterrupted infrastructure support for data centers." To that end, bestselling author and trend expert Jack Uldrich will be addressing future trends and holding a panel discussion after his presentation.
As a futurist, Uldrich is currently focusing on nanotechnology and the surprising ways it's climbing into peoples' lives. Uldrich says, "In ways small and big, nanotechnology—the science of the small—is well-positioned to have an outsized impact on the world around us. If you need further proof, look around. Nanotechnology is already inside your smartphone and might soon be inside your body battling cancer. Who knows, it may even be outside your window at this very moment in the form of a gecko-like human scaling a self-cleaning, nano-enhanced solar window."
Uldrich is an innovative and inspirational speaker on topics such as future trends, emerging technologies, innovation, change management and leadership, giving his audience members a more vivid perspective of tomorrow. He is also a leading expert on assisting businesses adapt. He speaks and consults for clients worldwide, from start-ups to Fortune 1000 companies, and is a frequent guest on radio and television. In addition to speaking internationally, Uldrich is also hard at work on his latest book, "Business as Unusual: How to Future-Proof Your Business Against Tomorrow's Trends, Today."
Parties interested in learning more about him, his books, his daily blog or his speaking availability are encouraged to visit his website. Media wishing to know more about either the 7x24 Exchange event or interviewing Jack as a futurist or trend expert can contact Amy Tomczyk at (651) 343.0660.