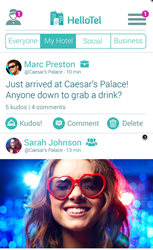 The idea struck me during last year's Consumer Electronic Show in Las Vegas. What if I could create an app that would allow you to interact and network with other guest staying at your hotel?
Chico, CA (PRWEB) August 13, 2014
Travelers can now optimize their hotel stays by turning any hotel check-in into a rich social experience with fellow travelers. Simply sign up and create your profile in two easy steps, match your location with the nearest hotels or resorts, check-in to your hotel and immediately begin interacting with other guests using the HelloTel App.
Social feeds dedicated to general usage or business networking allow users to easily determine and display how they want to network. The main social feed displays checked-in user profiles where users can post public or private messages, share pictures, add comments and send "kudos" to content they find interesting. HelloTel App's rich features and brilliant design allow travelers to network on the go in an easy to use interface.
"The idea struck me during last year's Consumer Electronic Show in Las Vegas. What if I could create an app that would allow you to interact and network with other guest staying at your hotel? From that point on, I began working on the HelloTel App which launches next month." - Marc Preston, Founder & CEO
Whether you are planning your trip for business or looking to make new connections in your down time; the HelloTel App is the perfect mobile social solution. Pre-register today for premier access to the new HelloTel App! Make your trip a truly great experience and download the HelloTel App now: http://www.HelloTelApp.com