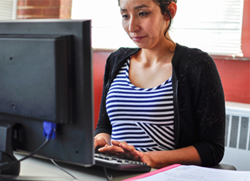 EASy Simulations give participants a realistic preview of the job and accurately diagnose critical job skills.
Winter Park, FL (PRWEB) August 14, 2014
With the help of EASy Simulation® gaming technology developed by Employment Technologies, Denver nonprofit Mi Casa Resource Center has been singled out by the White House and a report by Vice President Joe Biden for successful "job-driven" strategies for workforce development programs that help workers with limited education prepare for promising career path employment.
Employment testing and training is often a daunting task for both participants and trainers, but EASy Simulations are changing all that. This gaming technology has helped Mi Casa transform their job-readiness training into a fun and engaging experience.
With a 38-year history of supporting people to achieve their economic goals, Mi Casa offers basic professional development training, as well as industry-focused training programs for workers with limited skills and education to prepare them for careers with strong earning and advancement potential in growth sectors.
Mi Casa connects program graduates to Denver area employers, providing a talent pool of trained, verified, and highly qualified professionals.
Through a new partnership with Employment Technologies, Mi Casa is now utilizing the company's award-winning EASy Simulations. Providing high-end graphics and a compelling storyline to immerse participants in key job roles, EASy Simulations give participants a realistic preview of the job and accurately diagnose critical job skills.
According to Carin Paupore, Lead Trainer for Mi Casa, "Employment Technologies' EASy Simulations offer a friendly and engaging way for participants to improve their skills—regardless of age or level of experience. The simulations are an objective and professional way to assess candidate skills and training results."
In addition to the simulations helping participants learn and understand their strengths and opportunities for growth, the format (being less text-based) is also ideal for candidates for whom English is a second language.
"Our career training programs have an incredible 75% full-time job-placement rate," said Christine Marquez-Hudson, Executive Director/CEO of Mi Casa. "EASy Simulations ensure that our participants address areas for improvement before graduation and build confidence in their skills."
"We consistently receive feedback from our employer partners that our graduates are not only job ready, but are also a cut above the rest," said Christine.
"Knowing our innovations are helping put people to work is very rewarding," said Joseph Sefcik, Founder and President of Employment Technologies. "The accuracy of the simulations ensures that employers are paired with job-seekers whose skills and abilities are a good fit for their needs. It really is a win-win."
Mi Casa Resource Center is among the oldest and largest Latino-serving nonprofit organizations in Colorado, and works toward its mission of advancing the economic success of Latino and working families. Mi Casa is an educational and economic resource center for families with many free and low-cost programs that begin in middle school and continue through adulthood. Mi Casa has four locations across Denver. For more information, visit MiCasaResourceCenter.org.
Employment Technologies is the pioneer and world's leading developer of employment simulations. A five-time winner of the prestigious Human Resource Executive, "Top HR Product of the Year" award, Employment Technologies' EASy Simulations are proven to improve hiring, reduce training times, accelerate employee performance, reduce turnover, and inspire job success. To learn more, visit http://www.etc-easy.com.