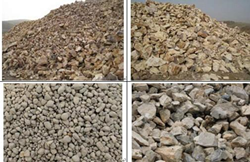 Zhengzhou, China (PRWEB) August 13, 2014
According to iAbrasive's latest news, there is an increasing demand in China refractory material market in recent years. (See the original article at: http://www.iabrasive.com/articles/increasing-china-refractory-material-market-demand)
Refractory material refers to inorganic non-metal material whose refractoriness is not lower than 1580 degrees centigrade. Refractory materials are widely used in various fields of national economy, including steel, non-ferrous metal, glass, petrochemical, construction materials, etc. since 2001, with the high-temperature industry boost, refractory material industry has been kept a good momentum and China has become a major producer and exporter of world refractory materials.
From 2001 to 2010, China refractory raw materials and finished products have seen a steady growth. In 2010, global refractory material products reached 28.0806 million tons, and in the following year, China refractory materials output accounted for 65% of the global output, ranking the first both in production and sales. In 2013, China refractory materials output was around 29.2825 million, taking up more than 65% of world total output, China thus became a major producer, consumer, and exporter of refractory materials.
While the whole industry has been developing rapidly, China domestic refractory material product industry can be summarized as: "Big industry, small companies."
According to Yichuan Shengyu, a professional manufacturer for refractory materials in China, there are over 2,000 companies whose refractory material main business income can reach 5 million Yuan (including refractory material product companies and raw material producers). Among the figure, there are about 1,500 refractory material product producers, whose annual output is about 16,000 tons. Besides, many refractory material SMEs that haven't been on list still exist. China's refractory material output value is about 120 billion Yuan, but industry concentration is rather low. Therefore, generally speaking, the China refractory material industry has disadvantages such as low industry concentration, companies' scale is small and scattered, which can be concluded as "the coexistence of huge market capacity and low market concentration."
In 2013, companies among the top of the list include: Qinghua Refractories Co., Ltd., Puyang Refractories Group Co., Ltd., Wuhan Refractory Co., Ltd., Beijing Lier High-temperature Materials Co., Ltd., Yichuan County Shengyu Fireproof Material Co., Ltd., Qinyang Sanhui Refractory Material Co., Ltd., etc.
In recent years, China's steel, concrete, glass industries output has ranked top in world list, not only does refractory material have a huge demand, but it has a big development space. With more and more international refractory material giants investing and building factories in China, the China refractory market competition tends globalization.
For more information about Chinese refractory material suppliers, please visit: http://sanhuisic.en.iabrasive.com/.