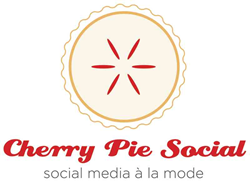 "OMG, since we hired Cherry Pie Social, I can barely keep up with the private party bookings for bridal showers and other special events!" Owner of La Bella Vino Winery, Lisa Rutgers
Sana Fe, NM (PRWEB) August 14, 2014
Carole Baker, CEO / Founder of Cherry Pie Social, finds her passion in helping small business owners discover the joy and fun in launching campaigns to engage their audience online via digital media -- Facebook, Twitter, Instagram, Pinterest and You Tube.
Since launching her business in early 2014, her client base has grown exponentially and clients such as La Bella Vino Winery are experiencing more than just "sweet success" -- they are seeing huge returns on their social media investment!
The owner of La Bella Vino Winery, Lisa Rutgers, says "OMG, since we hired Cherry Pie Social, the private party bookings and wine tasting events are off the charts. The wine is uncorked and is really beginning to flow. Social media has been great for spreading the word about fabulous New Mexico wine!"
Baker started her business from the ground up, boot-strapping her way through without any outside investment. She says, "I can't imagine doing anything else at this point in my life. Networking and connecting people to solutions has been my passion for years. We are so fortunate to live in an age where we have the ability as both consumers and business owners to have a global voice that is heard. Don't get me started about how much I love hashtags!"
The small business owner has a huge amount on their plate these days. Managing social media is just one more seemingly impossible and time-consuming element that they are struggling with. Adding a social media marketing agency or manager to your existing team can help boost most businesses by at least 20% in the first year alone. Baker says that one of her very first clients (a restaurant chain with more than 30 locations) experienced consistent monthly growth of 15% since adding social media to their marketing efforts.
Baker's list of impressive clients range from the film industry, to software companies and even educational institutions, restaurants and everything in between. She says "Every industry can benefit from the relationships and connections built through social media." Her clients include: Southwest Acupuncture College, TherapyPartner.com (based in Denver, CO), Awakening in Taos (PBS documentary), La Bella Vino Winery, Squeaky Clean Carwash, Jay Ritter Fine Art Photography, Anthony Abbate Fine Art Gallery to mention a few.
Baker currently has clients throughout New Mexico and Colorado but plans to continue expanding to Arizona and throughout the Southwest in the near future. To contact her for a consultation or a quote, http://CherryPieSocial.com. You can also find Cherry Pie Social on Facebook and Twitter.