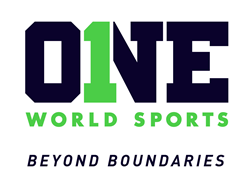 "We saw ONE World Sports as a terrific marketing partner for GEICO," said David Laub, Brand Strategist for GEICO agency Horizon Media.
Stamford, CT (PRWEB) August 13, 2014
ONE World Sports, America's Network for Global Sports, today announced that it has signed a multiplatform sponsorship agreement with GEICO. The agreement includes on-air spots, program sponsorship and branding, and marks the global sports network's inaugural agreement for major sponsorship.
As a "founder partner," GEICO becomes ONE World Sports' exclusive insurance-industry category marketing partner. GEICO will receive a robust presence in all ONE World Sports programs and events; complete sponsorship integration across all forms of programming and all platforms and ONE World Sports' app; and co-branded acknowledgements.
"GEICO and ONE World Sports share a common DNA around sports," said Gary Herman, executive vice president of ONE World Sports. "GEICO brings a tradition of high level sports sponsorship and ONE World Sports is committed to bringing exclusive global sports to American fans.
"We plan to do exclusive deals with marketing partners in every major advertiser category," Herman added. "The nature of sports programming lends itself to broad marketing, branding and sponsorship relationships rather than an ad-pod-heavy schedule, and we believe our new relationship with GEICO is emblematic of the types of alliances that best serve sports marketers and viewers."
"We saw ONE World Sports as a terrific marketing partner for GEICO," said David Laub, Brand Strategist for GEICO agency Horizon Media. "The network has the pulse on the key 18-49 demographic who are increasingly interested in seeing sports from around the world."
About GEICO
GEICO (Government Employees Insurance Company) is a member of the Berkshire Hathaway family of companies and is the second-largest private passenger auto insurance company in the United States. GEICO, which was founded in 1936, provides millions of auto insurance quotes to U.S. drivers annually. The company is pleased to serve more than 12 million private passenger customers and insures more than 20 million vehicles (auto & cycle).
GEICO's online service center helps policyholders take care of policy sales, policy changes and claims reporting, and print insurance ID cards. Policyholders can also connect to GEICO through the GEICO App, reach a representative over the phone or visit a GEICO local agent.
GEICO also provides insurance quotes on motorcycles, all-terrain vehicles (ATVs), travel trailers and motorhomes (RVs). Coverage for boats, life, homes and apartments is written by non-affiliated insurance companies and is secured through the GEICO Insurance Agency, Inc. Commercial auto insurance and personal umbrella protection are also available. For more information, go to http://www.geico.com.
About ONE World Sports
ONE World Sports is a multiplatform sports network featuring exclusive world-class sporting events live from around the globe. The network was created to fulfill American sports fans' growing demand for global sports. ONE World Sports delivers live and exclusive coverage of some of America's most popular sports played outside the USA – basketball, baseball, golf and ice hockey – plus sporting events with the largest global following, including soccer and cricket.
ONE World Sports showcases some of the world's most competitive soccer, including Arsenal FC, Chelsea FC, FC Bayern Munich, AC Milan, and the New York Cosmos, along with top soccer from Asia and the Pacific Rim. The network also exclusively telecasts the England National Cricket Team's international home matches, Japan's legendary baseball team, the Yomiuri Giants, Champions Hockey League, Chinese Basketball Association, OneAsia Golf Tour, and best-in-class competitions in table tennis and badminton from around the world.
ONE World Sports is available via DISH Network, Charter Communications, Cablevision's Optimum TV, Mediacom Communications, Hawaiian Telcom, Google Fiber and Verizon FiOS.
ONE World Sports is owned and operated by ONE Media Corp., which also owns and operates ONE CONNXT, a global HD/SD broadcast video transport services provider; and America ONE Sports, a leading provider of live broadband sports.
For more info, see http://www.oneworldsports.com.
Contact:
Tom Campo
Campo Communications, LLC
212-590-2464
Tom(at)CampoComm(dot)com