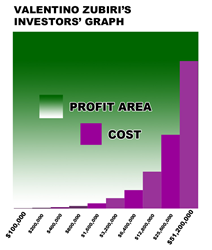 "I'll be The First Billion Dollar Artist for the world economy, but there will be others."
Chicago, Illinois (PRWEB) August 19, 2014
"I'd like to be a billion dollar artist! I can help investment banks, hedge funds, other financial institutions and investors who are struggling. Even bankrupt towns!" says Valentino Zubiri, an artist and memoirist. "Let me explain this idea."
Art is global, portable and the pricing is unregulated. Financial institutions can resell art at a profit, but since art takes time, they can trade and resell the ownership papers, if they have pressing quarterly and annual financial reports to satisfy. Even a bankrupt town should know serious art collectors.
The asset cost is the cost paid to the artist. The acquisition's asset value will be the highest reported selling price that either the artist or the other investors reached. The future art pieces get delivered to the future owners.
A few parameters have to be met.
First, concentrate on one artist. Trends of locales and groups will not work. All related trends will be under the predictable umbrella of that one artist.
Second, the artist announces scarcity. The quantity becomes known so everyone else can trade or resell.
Third, the artist announces an exponentially increasing pricing plan. Starting at $100,000 per piece, the next prices are $200,000, $400,000, $800,000, $1,600,000, $3,200,000, $6,400,000, $12,800,000, $25,600,000 and finally $51,200,000. A good sales executive can still resell at a much higher price.
The rationale behind the prices is that even the last buyers will have doubled their asset values as soon as the next price is announced, if other investors have not yet announced even higher prices.
That's it! Zubiri hopes to be the collectible artist in question, because this idea is why he writes memoirs and makes art. He currently has four memoirs, available on Amazon and other outlets, and he will have more to come. He may be the artist with the most memoirs in the world right now.
"Book-length memoirs written by artists will still be read 500 years from now. I initially thought 100% effort in art plus 100% effort in writing a memoir equaled a 200% type of linear perception, but after finishing one, I realized that the equation was more 100% + 100% = 400%!" he explains.
Zubiri also encourages other artists to write memoirs. To stay in the lead, he decided to release four before going public.
Dollman the Musical, a Memoir of an Artist as a Dollmaker, is one some Hollywood companies have noticed. He hopes it gets staged first. Hocus Pocus Lately is his paranormal memoir, which includes psychic healing techniques, a great topic for paranormal talk shows. Leadership Rubs: 1-Hour Mentors has inspiring conversations with CEOs, celebrities, and others. Wonder includes stories about his childhood.
He hopes that art + memoirs + scarcity + predictable pricing plan + trading ownership documents = helping the world economy through financial institutions. Even bankrupt towns have serious art collectors.
The art almost seems irrelevant - an artistic statement of sorts.
Zubiri decided to go beyond drawing, painting and sculpting by making poseable porcelain dolls with elaborate, expensive backdrops. More disciplines and media will be used: dollmaking, gemstones, precious metals, mosaic, metallurgy, enamels and stained glass. All the pieces would be unique, but the early bird $100,000 pieces will be comparable to the $51,200,000 pieces.
But why dolls?
"I once gave a teddy bear to a noisy, hyperactive two-year old. She grabbed it, went back to her stroller, shut up and never let it go until the family left. There's something psychological about beautiful symmetrical faces in toys. It struck me that she would not have behaved that way if I gave her a Picasso," he laughs.
Zubiri proposes that 400 pieces go to separate companies and individuals, while 400 + 80 free go to 4 big investment banks or financial institutions who know more collectors. The 80 is free so that the big institutions will get their costs down to $0. The individual investors can piggyback on the progress of the big companies.
Zubiri hopes that, right now, this makes sense to artists and investors. This could be the next profitable economic bubble, that does not need to burst. The supply can be controlled.
"It's first email, first reserved, at the lowest price available. My contact information is on my website, http://www.valentinozubiri.com. I'll be The First Billion Dollar Artist for the world economy, but there will be others. I'm ready, I'll keep myself safe and healthy, I'll have assistants, and I will deliver. Then I'll write another memoir about the experience," he says.