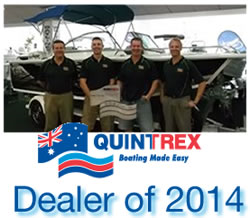 Awards like this just don't happen.
Sydney, NSW (PRWEB) August 14, 2014
Hunts Marine bag Quintrex Boats National Dealer of the Year Award.
In what continues to be a stellar year for marine dealer, Hunts Marine, they have been recently awarded the Quintrex Boats National Dealer of the Year Award.
The Quintrex Award recognizes excellence in sales, service, product, and industry knowledge, systems and processes, and community involvement.
Quintrex aluminium boats are amongst the most popular aluminium boats in Australia, and Hunts Marine has a proud long-term partnership with Quintrex.
Commenting on the award, Proprietor of Hunts Marine Jon Hunt said, "The entire team at Hunts Marine put a lot of effort into winning this award, it means a lot to us and we are very proud of this achievement."
"Awards like this just don't happen. Customers are far more discerning and have a greater awareness of the full gamut of what is available in the market. When Hunts Marine commenced business almost 70 years ago, it was wooden boats, now it is mostly aluminium boat sales specifically tailored to the individual's needs. We have grown and adapted to the times, and that is what we will continue to do to stay ahead," Jon added.
"That is a good thing. At Hunts Marine, we want our customers to be fully informed and in the position to make the right choice about the right boat for them, and our team is there to assist and guide them in their decision making process, and I believe that this award signifies that we are getting it right," remarked Jon.
Quintrex National Account Manager Cameron Wood in congratulating Hunts Marine said, "It is always a pleasure working with the team from Hunts Marine. They truly have excelled in all areas of the award criteria. Hunt's is one of our largest dealerships and has a very professional approach to the business, excelling especially with their customer service. We never hear a bad word about them, and their customers are always full of praise for the staff and the dealership."
In conclusion, Jon Hunt added, "As part of our commitment to the community, we are involved with local schools, sporting clubs, and local events, and have been involved in the BoatSmart program for the past four years by loaning a 470 Escape to a local school."
Hunts Marine is one of New South Wales oldest and most respected marine dealerships. The family business was established in 1946 and has traded continuously since that date. In addition to the original Blakehurst dealership, Hunts Marine has dealerships in Wollongong and Batemans Bay. Quintrex aluminium boats are available at all dealerships.
For further details, contact Jon Hunt on 02 9546 1324 or visit http://www.huntsmarine.com.au.