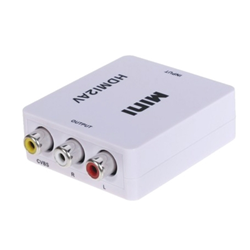 (PRWEB) August 13, 2014
Recently, Hiconn Electronics, China's leading China electronics accessory supplier, has happily unveiled its new selection of HDMI TO CVBS Converters. Moreover, the company has also announced big discounts on these useful converters; all these new products are now available at low rates, up to 30% off. According to the sales manager of the company, the promotion will end on September 30, 2014.
"We are proud to launch the special offer on our newly released HDMI TO CVBS Converters. We want to expand our market share, and I think we can make it. As you know, more and more people like to buy things online now. At our website, worldwide distributors don't need to pay a barrel of money to get what they need," the CEO says.
Some additional information about the HDMI TO CVBS Converters offered by the company are as follows:
--Hardware conversion, plug and play without any software driver
--Compatible HDMI1.3
--Support NTSC and PAL two standard TV formats
--One HDMI input, one AV output, one stereo output
--Input: HDMI x 1
--Outputs: AV x 1; L / R x 1
--HDMI input: 480P, 576P, 720P, 1080I, 1080P @ 60Hz
--Support the HDCP protocol, support for HDMI 1.3
--CVBS output: 480I, 576I
--Audio output: L/R channels
For additional information, the HDMI TO CVBS Converters from the most reliable company come with plenty of characteristics: durable materials, meticulous production, easy use, outstanding practicality and so on. They are offered in many specifications; all of them are user-friendly products.
About Hiconn Electronics
Hiconn Electronics (Shenzhen Hiconn Electronics Co. Ltd.) is devoted to designing and manufacturing a wide range of connection cables and customized cable assemblies, offering many HDMI cables, VGA cables, SATA cables, USB cables, 1394 cables, DVI cables, SCSI (Small Computer System Interface) and more. For more information, please visit http://www.hiconn.net/.
Contact Person: James Yin (Sales Director)
Company Name: Shenzhen Hiconn Electronics Co., Ltd.