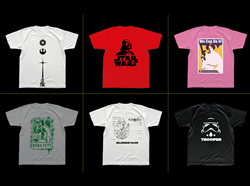 London, Barcelona, Berlin (PRWEB UK) 14 August 2014
Every year UNIQLO initiates a global t-shirt design competition with a different theme every year, encouraging designers, designer-newcomers as well as designer-wannabes to submit their designs with a chance to win grand prizes. After themes such as Mickey Mouse, Coca-Cola and the Grand Prix, this year's theme brings out the inner George Lucas Fan in designers: Star Wars.
Submissions for the global competition are open until the 31st of August – so get creative now. There are no restrictions to the submission –everybody can participate, regardless of age, gender, nationality or location. Garment Printing has 4 clients that have submitted designs, so don't delay and submit today.
Also, there are no restrictions to the design itself, or the size of the print on the t-shirt; the design can cover the entire back and front of the garment. Guidelines for the designs can be found here.
The winner of the competition receives a cash prize of $10.000 (£6000), a Star Wars Celebration and a Lucas film Headquarters Tour. The runner up still gets $500 (£300) as well as the tour, and the second runner up $500.
Additionally, and potentially very interesting for up-and coming designers: the winner's creations will be featured in UNIQLO's Spring/Summer 2015 collection.
The judges that will pick the winning designs will be Darth Vader, "other special Star Wars judges", as well as Nigo, creative director of UNIQLO's UT Collection of limited-edition graphic shirts.
For all the designers, newcomers and wannabes, Garment Printing offers various printing services, including DTG, screen-printing, and the famous all-over print using dye sublimation printing. So in case it doesn't work out with the new UNIQLO collection, Garment Printing is happy to bring your design onto t-shirts just the way you want it and will offer a 20% discount on your design, subject to copyrights approval from the competition organisers.
May the force be with you.