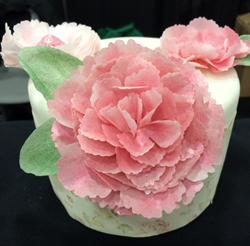 I'm excited for other artists to see how quick and easy it is to use wafer paper to make flowers.
Albuquerque, New Mexico (PRWEB) August 14, 2014
August 1 - 3, Icing Images introduced their new product, Premium Wafer Paper, during the International Cake Exploration Societe' (ICES) Convention in Albuquerque, New Mexico at the Albuquerque Convention Center. Premium Wafer Paper is a vanilla flavored wafer paper used in the creation of decorations for cakes and other desserts.
Michele Hopps of Epicurean Delights®, known for her cake decorating and video tutorials, demonstrated how to create flowers to adorn cakes at the Icing Images booth throughout the show.
Premium Wafer Paper is a flavorful alternative to the average, tasteless wafer paper which is made from potatoes. The product comes with both a smooth and textured side enabling its use with an edible printer to apply designs with Icing Images iDesigns™ software to create colors and patterns for cake decorating. Premium Wafer Paper will become available on the Icing Images website this fall in a minimum of five different colors.
Icing Images will be offering Premium Wafer Paper in addition to their Premium Icing Sheet™ collection to complement their selection of edible papers for printing. Premium Wafer Paper works best as an accent on the cake while Premium Icing Sheets are used both for accents and completely covering a cake with a printed design.
Hopps was joined at the Icing Images booth by renowned cake decorators Peggy Tucker, CMSA; Karen Vazquez, Kakes by Karen; Joshua Simpson, Twisted Fig Cake Designs; Theresa Parkin, Cavalier Cakes; Whitney Wolfe, Kakes by Karen; Susan Carberry, The Cake Cottage; Jason Everett, Sugar Shack; and Teri Tarbox, Simply Cakelicious who demonstrated Icing Images' Spellbinders® Sweet Accents™ food safe die cutting and embossing system, DECOgel™, iDesigns and Premium Icing Sheets.
"I'm looking forward to the launch of Icing Images premium wafer paper in October. I'm excited for other artists to see how quick and easy it is to use wafer paper to make flowers. You can literally pull together a beautiful flower in 15 minutes! No waiting for gum paste to dry and you can even eliminate wires when doing simple flowers. Let's face it; in this business time is money. Products that help you create quickly while still maintaining quality and beauty are time savers."- Michele Hopps, Epicurean Delights Instructor and Owner.
Icing Images also introduced their new fall line of food safe die cutters for the Sweet Accents due to appear on the Icing Images websites soon: Cathedral Window, Chevron Mania, Tres Medallions, Happy Birthday, Paisley, Lower Case Alphabet and Navajo Weave.
Icing Images DECOgel, a new gelatin-based cake decorating medium, was used to construct a rope for a hot air balloon cake made by Tucker, Carberry, Pat Jacoby, Patty Cakes, Zane Beg, Norm and Zane The Sweet Life, and Kathy Scott, CMSA, ICES President and Sweet Expressions Bakery during the Fab Five Competition at the ICES Convention. They chose to use DECOgel as it gave a more realistic effect than other edible mediums. Norman R. Davis of Norm and Zane, The Sweet Life was the master of ceremonies for the event.
Icing Images products were also utilized in the construction of the winning cake in the Live Cake Challenge at ICES. Silvina Barboza, Chef Vanessa Greeley and Carolina Lara of The Cake Mob created a cake in the competition's theme, "Up, Up and Away." Their cake depicts a handsome man using his hot air balloon to visit the love if his life and express his feelings under the romantic light of the moonlight.
Icing Images' Premium Icing Sheets were also featured by local television station KRQE, the Albuquerque CBS affiliate, at the Satin Ice booth at ICES during the filming of a demonstration by Jason Everett, 11, about how to create a photo on a cookie. Everett was also the youngest to ever demonstrate at the ICES show, representing Icing Images.
"We were thrilled to have our products featured in so many different activities and by so many well-known instructors at the ICES Convention. Our products flew out of our booth and customers are anxious for the launch of our new Premium Wafer Paper this fall." – Deborah Coughlin, Icing Images owner.
Icing Images has been a leading distributor of edible photo and edible paper art supplies for over a decade, offering edible ink printers, edible ink, icing sheets, electronic and manual die cutters, and DECOgel to retail bakeries, home bakers and cake decorators.