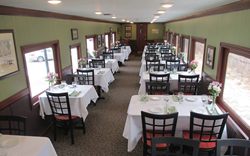 Cleveland, OH (PRWEB) August 13, 2014
Leading commercial furniture distributor, Restaurant Furniture.net recently teamed up with Cuyahoga Valley Scenic Railroad to update the seating in their dining car by supplying them with new restaurant chairs.
Cuyahoga Valley Scenic Railroad is one of the oldest, longest and most scenic tourist excursion railways in the country. It is a key travel component through the Ohio & Erie Canalway National Heritage Area. Cuyahoga Valley Scenic Railroad provides residents and visitors unparalleled experiences traveling through the Ohio & Erie Canalway and Cuyahoga Valley National Park, and it has been named one of the "Top 10" excursion railways in the USA for the fifth consecutive year. They also have wine-tasting and beer-tasting excursions.
Steeped in history the Cuyahoga Valley Scenic Railroad was originally called the Cuyahoga Valley Line and it goes back over 100 years when in 1880 the Valley Railway started operations transporting coal and providing passenger service along the way. The Cuyahoga Valley Scenic Railroad is a non-profit organization that operates more than 51 miles of the historic line, providing excursion passenger rail service between Rockside Road in Independence, Howard Street in Akron, and Tuscarawas Street in Canton. Each year, thousands passengers enjoy the scenery and hospitality offered via a ride on the historic Cuyahoga Valley Scenic Railroad. Excursion rides provide a glimpse of meadow lands, piney marsh rivers where one can see animals like beaver, deer, fox and owls.
The manager of the Cuyahoga Valley Scenic Railroad needed high quality commercial seating for the railway's deluxe dining car that would look great and be able to withstand the high traffic that the railway experiences on a daily basis. "He needed sturdy, durable chairs that look great, but he wanted to stay within budget", explained David M. He turned to Restaurant Furniture.net because of their reputation for premium quality and strong built furniture at affordable prices. Restaurant Furniture.net supplied Cuyahoga Valley Scenic Railroad with high quality commercial chairs and tables at competitive prices.
The owner decided to go with elegant Window Back Metal Restaurant Chair. Customers have the option of a solid wood seat or an American made padded seat made of vinyl or fabric. Wood seats are available in 6 different finishes. The frame is available in black, copper vein, silver vein, gold vein or gold. The Metal Ladder Back chairs are on sale for $33. A matching bar stool is also available for $51.
Browse Restaurant Furniture.net's full selection of commercial grade chairs, bar stools, table tops, table bases, booths and patio furniture at http://www.restaurantfurniture.net or talk to a customer service representative at (888) 409-1115.
Tickets for the Cuyahoga Scenic Railway can be purchased online or at their customer service office at 1630 West Mill St in Peninsula, OH. They can be contacted at: (800) 468-4070.