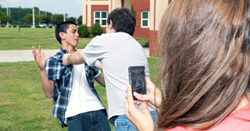 Group Bullying needs to be stopped. It must be looked at first as a form of crime not as a rite of passage or child's play.
London, UK (PRWEB) August 13, 2014
In everyday life, bullying is a staple although it may go unnoticed. Bullying is simply, intentional aggressive behavior directed at one individual for a multitude of reasons. NoBullying examines how bullying happens in the form of Group Bullying in an article released today.
The guide first explains how bullying can consist of verbal, physical, or social aggression. Verbal bullying is directing hateful words at the victim, including but not limited to: spreading rumors, teasing, insulting, putting down the victim, or namecalling.
The Physical type of bullying and abuse is usually more prominent among male individuals. Social aggression, otherwise known as group bullying, is a complex action in itself. In fact, there are six different types of people usually involved in the act of group bullying.
The guide lists the types as the bully, who starts the aggressive behavior and picks the target. Then comes the victim who is the target and recipient of the bullying behavior, the bystander or bystanders who may not be directly involved but do allow the behavior to continue and escalate.
Other people involved include "the assist" referring to persons who feel no remorse in verbally encouraging the bully or even joining in the act. Then there is "The Reinforcement", the ones who do not intervene but do encourage the aggression. They may call out, laugh, or simply provide an audience for the bully, which feeds into the bully's aggressive behavior and need to stand out.
The other two types include the outsiders who do not attempt to stop the bullying in fear of retaliation and the interference which alludes to the person stepping in to stop the acts of bullying and regardless of succeeding or not, the victim will often feel a sense of gratitude for this brave person.
It is important for children to learn these different roles of group bullying so that they can begin to understand the part they play in encouraging this aggression.
The guide also lists advice that can be giving by parents or educators on how to stop this type of bullying such as using humor to diffuse the situation or always be available in the presence of adults or supervisors in the case of bullying at school.
Ciaran Connolly, Co-Founder of NoBullying.com, said "Group Bullying needs to be stopped. It must be looked at first as a form of crime not as a rite of passage or child's play. Bullying is a serious issue and must be dealt with accordingly."
He added that parents and teachers should make a point to educate the younger generations about the sad outcome of bullying online and offline. According to Mulligan, it is quite imperative to press for more firm laws condemning all acts of bullying and harassment.
NoBullying.com features many pages dedicated to parents, teens, teachers, health professionals as well as posts related to cyber safety and the latest news about law making concerning curbing Bullying worldwide as well as inspirational Bullying Poems and famous Bullying Quotes.
The website regularly updates its bullying statistics and cyber bullying statistics as it is essential to understand how widespread the bullying epidemic is. It also regularly runs cyber bullying surveys and questionnaires to get recent updated statistics on everything related to cyberbullying.
He also added that anyone suffering from bullying in any form or way can always find advice and help on the NoBullying website – but if anyone is suffering from severe bullying or cyber bullying, the best thing is to talk to someone locally – a parent, teacher or local organization that has been set up to help with specialized councilors to deal with this topic.