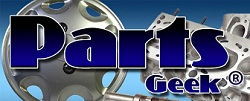 (PRWEB) August 14, 2014
Just like the brakes on a vehicle, tires are one of the most important features that contribute to the overall safety of the driver as well as the functionality of the vehicle. As one of the leading online auto parts retailers, the professionals at Parts Geek make it their top priority to get their customers the parts they need fast. For those looking for new tire pressure monitoring systems (TPMS) to guarantee that their tires are up to par, Parts Geek is pleased to announce that they now have over 5,970 TPMS sensor line products. Potential customers looking to browse through their inventory of TPMS sensor line products can do so by clicking the following link: http://www.partsgeek.com/parts/tpms_sensor.html.
Parts Geek currently offers TPMS sensors for thirty five vehicle makes that include: Acura, Dodge, Volkswagen, Toyota, Volvo, and Ram. They also offer TPMS sensors from many top brands such as Denso, OES Genuine, Huf North America, Genuine, VDO, Beru, Dorman, Standard Motor Products and Replacement. Last but not least, many of their products are available for ground, overnight, and 2 day shipping and a select amount of their TPMS sensors can also be delivered via ground shipping—free of charge.
As far as the feedback Parts Geek has received for their sale of TPMS sensors, Parts Geek has a 4.9 out of 5 star rating, as well as over 95 reviews. In fact, a recent reviewer gave the Standard Motor Products brand TPMS sensor they purchased a 5 out of 5 stars and also had this to say about their experience with Parts Geek: "I purchased this item for my 2010 BMW 335i because after riding on a flat tire for around 30 miles, the car's TPMS errored, stating that the TPMS had malfunctioned. I assumed that the TPMS Sensor was to blame, so I ordered one from Parts Geek. I took this part to the dealer and they installed it, along with two new tires, in the wheel that had the flat. I put a few hundred miles on the car since and have no issues so far." To read more reviews about their TPMS sensors in general, as well as reviews for the various brands of TPMS sensors found on in their inventory, please visit their website today.
About the Company:
At Parts Geek, they offer the best and most competitive prices on imported and domestic car parts. They also offer automobile accessories, and many of their items ship quickly—all from warehouses scattered throughout the US. Customers can pick from thousands—if not millions, of new automotive parts, refurbished/rebuilt parts, and more from reliable and certified manufacturers. To learn more please visit http://www.partsgeek.com.