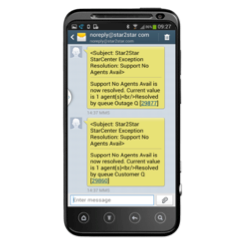 Sarasota, Florida (PRWEB) August 18, 2014
Star2Star Communications, makers of the World's Most Scalable Cloud Communications Solution, announced the release of StarCenterTM SMART (StarCenter Monitoring Alerting & Reporting Tool) and other new features for their advanced call center solution. StarCenterTM SMART is the intelligent way to monitor inbound call center business rules and is designed to improve call center management.
Quality service level agreements are critical to any business. Star2Star now offers call center managers the ability to monitor how well a system is conforming to a series of pre-defined parameters without constantly watching monitors. If an exception outside of desired business rules occurs, the system will trigger a notification email or short message service (SMS) message to select individuals.
"Our clients deserve the best service possible," stated Jackson Haskins, Business Development Manager of SouthTech. "As a customer as well as a reseller, the SMART feature has automated a faster response. In addition to providing SMS and email alerts to our operations managers, the SMART feature allows us to get notifications directly into our ticketing system for accountability. With the SMART feature technology, we have reduced hold time by 30% and ensured we are exceeding our SLA with our clients."
In addition to StarCenterTM SMART, other enhancements have been released. These features include auto answer at the queue and agent levels, agent login call delivery pause, flexible reporting for all or multiple-queues and general enhancements.
About Star2Star:
Founded in 2006 in Sarasota, Florida, Star2Star Communications delivers the World's Most Complete and Scalable Cloud Communications Solution. Star2Star unifies customers' voice, video, fax, instant messaging and presence management into a single, easy-to-use system. Star2Star's award-winning, patent-pending Constellation™ Network overcomes the reliability and quality limitations of other communications technologies.
In the past three years, Star2Star was named to the Forbes Most Promising Companies list, the Deloitte Technology Fast 500 twice, and the Inc. 500|5000 three times. Star2Star also recently received Inc. Magazine's Hire Power Award honoring the top private business job creators in the country.
Star2Star Communications solutions are sold through a diversified network of partners that include distributors, master agents, managed service providers and certified installing dealers. Available across North America, Star2Star systems are used by hundreds of thousands of business users, including large national chains with multi-location communications footprints.