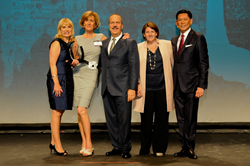 "Flying the flag for Great Britain and being recognized by Virtuoso as the Best on-site Provider for 2014 is an honor." -- Nicola Butler, Managing Director of Noteworthy"
LONDON, ENGLAND (PRWEB) August 14, 2014
International luxury travel network, Virtuoso®, celebrated its top destination partners at last night's Destination Showcase Dinner & Award where, Exquisite British Experience specialists, NoteWorthy, was recognized as the winner of Best on-site Provider 2014. NoteWorthy is the first on-site provider from Britain to win this prestigious award. The event, which attracted more than 1377 travel agency members, preferred suppliers and esteemed guests, was one of the many fetes at the organization's 26th annual Virtuoso Travel Week conference, taking place this week at the Bellagio Resort & Casino in Las Vegas. Hosted by Virtuoso Chairman and CEO, Matthew D. Upchurch, CTC, and Albert Herrera, Virtuoso's senior vice president of Global Product Partnership, the Destination Showcase honored partners who continue to provide exceptional experiences to Virtuoso clients while simultaneously proving themselves outstanding partner to Virtuoso's travel agencies and advisors.
"Ours is an industry that is based on relationships, and the incredible relationship we have with our partners like NoteWorthy allow our advisors to consistently delight their clients," says Herrera. "The Destination Showcase Awards allow us to shine the spotlight on these amazing partners and thank them for their continued support of our network."
NoteWorthy received its nomination from an elected committee of top Virtuoso travel advisors, and excelled in the voting process that engaged the network's nearly 9,000 travel advisors who selected NoteWorthy from over 150 companies across the world.
"Flying the flag for Great Britain and being recognized by Virtuoso as the Best on-site Provider for 2014 is an honor. We strongly value all our professional relationships, but most especially those with our travel agency partners," said Nicola Butler, Managing Director of NoteWorthy "We look forward to continuing to work together to create experiences that surpass the client's expectations."
###
About NoteWorthy:
NoteWorthy creates Exquisite British Experiences for guests who wish to explore the majesty, tradition and heritage of Great Britain and Ireland. After 28 years in business, Susie Worthy, Founder and Chairman of NoteWorthy, along with Nicola Butler, Managing Director and their team uses their personal relationships and expert knowledge to deliver once-in-a-lifetime personalized itineraries. Their connections among British aristocracy, unique venues and major visitor attractions enables them to arrange behind the scenes, back stage, Curator led and private after-hour visits including Windsor Castle, Churchill War Rooms and Edinburgh Castle to name but a few. Other awards won by NoteWorthy include Top Travel Specialist Award by Conde Nast Traveler eight years consecutively, as well as being awarded the A-List Award by Travel & Leisure for six years running. For more information visit: http://www.noteworthy.co.uk
About Virtuoso:
Virtuoso® is the industry's leading luxury travel network. This by-invitation-only organization comprises over 340 agencies with more than 7,200 elite travel specialists in 20 countries in North and South America, the Caribbean, Australia and New Zealand, as well as over 1,700 of the world's best travel providers and premier destinations. The network's member agencies generate over $9.6 billion annually in travel sales, making the group the most powerful in the luxury travel segment. Their relationships with the finest travel companies provide the network's affluent clientele with exclusive amenities, rare experiences and privileged access. For more information, visit http://www.virtuoso.com. To view Virtuoso's latest videos, go to http://www.youtube.com/user/VirtuosoTraveler.
Media Contacts:
Nicola Butler - NoteWorthy Managing Director
Office: + 44 (0) 203 051 5165
1-863-266-3868
Email: nicola(at)noteworthy.co.uk
Misty Ewing, CTA
Virtuoso – Director, Global Public Relations
Phone: 202.553.8817
E-mail: mewing(at)virtuoso.com