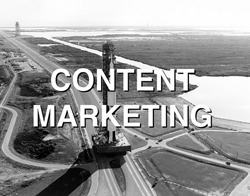 Content marketing allows businesses to sell more than their products. Content marketing allows them to peddle ideas and insights that engage customers.
(PRWEB) August 14, 2014
GetUWired, a leader in content marketing and marketing automation, has just released an informative blog, "Harvard Business Review Touts Power of Content Marketing." In the blog, GetUWired explores insights from the Harvard Business Review article "The Content Marketing Revolution." Read the GetUWired blog here. The original Harvard Business Review article can be found at http://www.blogs.hbr.org.
In the original article, author Alexander Jutkowitz explores the "historic transformation" that brand and companies are going through in relation to content marketing.
He says that nine out of 10 companies are now using content marketing that includes publishing information and entertainment that are relevant to customers. Content marketing has revolutionized the way businesses communicate with their customers, as hashtag campaigns and Tumblr accounts has become just as important as traditional advertising.
The author states that the phenomenon of content marketing has gained so much strength because it responds to consumers' preferences.
"Brand publishing allows companies to react in real time, provide increased transparency, and create a strong brand identity at a fraction of the price of traditional marketing tactics, and in less time," the article states.
As content marketing gains clout in the advertising world, big brands are hiring more top journalists and molding their advertising departments into more of an editorial framework, the author states. Trained journalists and writers have the expertise and the experience to synthesize information into brand journalism and uphold strict editorial standards.
The rise of content marketing has changed the face of advertising.
"Brands are no longer merely peddling products; they're producing, unearthing, and distributing information," the author states.
Need help with content marketing?
GetUWired's seasoned copywriter is a former journalist who creates content for companies all over the world including blogs, press releases, email marketing campaigns and much more. Give GetUWired a call today at 877-236-9094 or visit http://www.GetUWired.us.