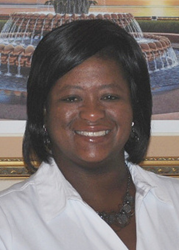 Orange Beach, AL (PRWEB) August 13, 2014
Columbia Southern University (CSU) recently awarded a Hero Behind the Hero Scholarship to Yolanda Shropshire from Norman, Okla., to help her resume her dream of earning a master's degree.
"As the mother of two teenage sons and the wife of a U.S. Air Force active-duty military member, I have willingly endured frequent moves and made sacrifices to ensure the stability of our family," said Shropshire.
"Now that the family is stable, I feel this is the most opportune time to continue my pursuit of higher education and set an example for my sons by obtaining my master's degree in human resource management."
The online university awards the Hero Behind the Hero Scholarship to the spouses and children of active-duty public safety personnel (firefighters, law enforcement officers, EMTs and dispatchers) and National Guard and military men and women. It covers tuition for up to 24 months for one specific online degree program with CSU. Yolanda Shropshire is married to U.S. Air Force Chief Master Sgt. Kendrick Shropshire.
Yolanda Shropshire said she became interested in a human resources career while employed at Beazer Homes in Charleston, S.C. "The human resources specialist at Beazer Homes gave me the opportunity to shadow her one day, and from then on, I knew this was the correct career field for me."
Shropshire believes human resources is so rewarding because "it gives you the opportunity to never stop learning your job while helping your fellow co-workers as well as making sure your company is a success." With a master's degree and a job in human resource management, "I know I will feel as if my life will be more meaningful and my household status will change from stay-at-home mom to working mom. It has always been a dream to be that woman who feels she has it all: a wonderful military life, two outstanding teenaged boys and her own career status."
CSU offers online associate, bachelor's, master's degree programs in various fields such as fire administration, occupational safety and health, criminal justice and business administration. Visit http://www.ColumbiaSouthern.edu to learn more.