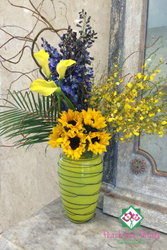 Atlanta, GA (PRWEB) August 14, 2014
Peachtree Petals, a recognized leading Atlanta florist specializing in premium floral arrangements and wedding floral services, announces its Lenox Collection. The florist makes the announcement in effort to improve its customer online shopping experience, expand its current customer base and increase online sales. Peachtree Petals pursues to be the best choice in high-quality and custom-designed floral arrangements in the Atlanta and Metro-Atlanta area.
The Lenox Collection is conveniently located on Peachtree Petals' comprehensive website within the "Flowers" section. It is named after Atlanta's very own Lenox area. This beautiful collection is comprised of the most popular Peachtree Petals' unique bouquets inspired by the English Gardening and sheer love for gardening itself. You will be thoroughly pleased by this line of floral arrangements. The Lenox Collection page results in a faster and more user-friendly online floral shopping experience.
If customers can not find what they are looking for within the Lenox Collection, the florist also offers the Peachtree Petals Custom Design Bouquet. This bouquet allows customers to create with an original floral arrangement of their own. Peachtree Petals will create a wonderful floral bouquet within the dollar value that the customer desires. The pricing option for this bouquet has a minimum requirement of $40 and can range up to whatever dollar figure specified, even if they are for multiple arrangements. With over 25 years of combined experience, Peachtree Petals' designers love their craft and have the floral expertise to create any style of arrangement.
Peachtree Petals has an array of other floral arrangements that customers can enjoy, whether online or they come and visit the Peachtree Petals floral and gift shop. Customers can have their beautiful bouquet delivered or picked up from this location. From downtown Atlanta, Georgia, the floral and gift shop is easily accessible and full of assorted, complimentary gifts for your arrangement, including premium Godiva chocolates, plush teddy bears, mylar balloons, and more. Operating hours are Monday through Friday from 8:00am to 5:00pm and Saturdays from 8:00am to 1:00pm.
Peachtree Petals is a well-known leader of superior floral arrangements and a recognized Master Florist nationwide. From wedding bouquets to Father's Day flowers, Peachtree Petals is able to meet all of your floral needs. Based in Atlanta, Georgia, Peachtree Petals services a growing list of clients, including company floral subscriptions and weekly floral services. The company offers a simple approach to the floral industry, most notably, same-day delivery of all their floral arrangements in the Atlanta and Metro-Atlanta area.